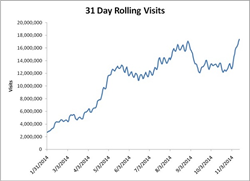 San Mateo, CA (PRWEB) December 10, 2014
Silicon Valley brokerage Movoto has officially launched its community-based Movoto Insider Blog (http://www.movoto.com/insider/). In the past two years, the blog has grown from 2,000 visits per month to over 18 million, making it the most popular real estate blog in the world.
Insider features a variety of local information conveniently organized in one location. It's what people really want to know when moving to a new place–whether an area is safe or exciting–along with tidbits of history, an insider perspective on entertainment, and photos and videos from its residents.
"When I was moving across the country, it was really hard to find an interesting and unbiased perspective on what it's actually like to live in a place," said Chris Kolmar, Director of Marketing for Movoto. "To my surprise, BuzzFeed was the best source of information. So I told the team, 'Let's create an insider's guide to what makes each place great'."
The project is part of Movoto's overall goal to be the one-stop destination for home-buyers.
"Buying a home is a journey, and in any journey, you don't know exactly where to start and where to end. We want to be the beginning and ending for people who start their home search. Helping people find the perfect home is what we strive to do, but finding that home in the perfect neighborhood–no one's doing that," says Nick Johnson, Head of PR at Movoto.
An unintended outcome from Insider has been the crowd sourced forum that's developed in the comments section of each article. Over time, the team realized just how passionate people are about where they live.
Insider Facts
-Movoto's content team publishes 100 original posts per week, drawing over 18 million visits per month.
-The team has published more than 2,000 posts about communities in the U.S. to date, 150 of which have broken 100,000 views.
-80 percent of all incoming traffic comes from Facebook, which is where the team sees many of its articles go viral with an average of over 5,000 interactions per article from the social media site alone.
Check out the blog at http://www.movoto.com/insider/.