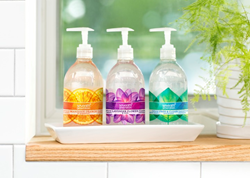 "We were still blown away to see how much they loved these new bottles. We're actually having trouble keeping them in stock." -Joey Bergstein, CMO at Seventh Generation
New York, NY (PRWEB) December 10, 2014
Seventh Generation, the eco-friendly brand known for its commitment to a toxin-free environment, recently introduced new packaging for its line of hand wash products and saw sales double almost overnight.
"We always knew package design was important to consumers when it comes to hand wash because it's on display and part of their home decor," said Joey Bergstein, CMO at Seventh Generation, "but we were still blown away to see how much they loved these new bottles. We're actually having trouble keeping them in stock."
The new packaging was designed by NYC-based Beardwood&Co., a branding firm that has extensive experience with beauty and personal care brands. "Seventh Generation asked us to design packaging that is true to their brand mission and beautiful enough to earn a place on the kitchen counter or bathroom vanity," said Julia Beardwood, Partner at Beardwood&Co. "Clear recyclable bottles allow people to see the natural tint of the product inside and the imagery around the outside reinforce the simple goodness of the formulas. It's an irresistible combination of product and design working together to win people over."
The Seventh Generation hand wash line consists of four products: Free & Clean, Mandarin & Grapefruit, Lavender Flower and Purely Clean.
Seventh Generation
Established in 1988, in Burlington, Vermont, Seventh Generation is one of the nation's leading brands of household and personal care products. The company lives its commitment to "care today for seven generations of tomorrows," with products formulated to provide mindful solutions for the air, surfaces, fabrics, pets and people within your home -- and for the community and environment outside of it. A pioneer in corporate responsibility, Seventh Generation continually evaluates ways to reduce its environmental impact, increase performance and safety, and create a more sustainable supply chain. To learn more about Seventh Generation products and business practices, locate a retailer in your area, or review Seventh Generation's Corporate Consciousness Report, visit http://www.seventhgeneration.com.
Beardwood&Co. is an integrated branding agency located in Soho, New York. Established in 2004, Beardwood&Co. creates human connections between brands and the people who use them through insight, innovation and design. Comprised of strategists and creatives, the firm works with global and national brands including Sperry Top-Sider, Westin Hotels, Seventh Generation, Happy Baby and Honest Tea. http://www.beardwood.com