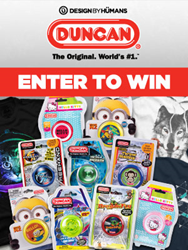 Chico, CA (PRWEB) December 10, 2014
Design By Humans partners with Duncan Toys in a collaboration that involves the accomplished yo-yo team members of Duncan with the international artists of Design By Humans (DBH). The 2014 National Yo-Yo contest was held on October 4th at the City Plaza (near DBH Headquarters!) in the heart of Downtown Chico which is also where the National Yo-Yo museum happens to be located. DBH wanted to get involved with the Championship prelim round and sponsored community events taking place in the Chico City Plaza. To do so, DBH teamed up with the players from the Official Duncan Yo-Yo crew for a photo shoot featuring the players and their top tricks. There are many players who, like DBH, call Chico their hometown, so it was a perfect match for DBH to team up with all the talented players. To celebrate the talented and accomplished yo-yoers, DBH teamed up with Duncan to hold a rafflecopter giveaway to give everyone the chance to get some free DBH and Duncan goodies.The giveaway will run from December 8th–December 14th. Duncan is also showcasing a store on DBH with some vintage tshirt designs here.
Giveaway Prizes
First place winner will receive their choice of a Hoodie and T-shirt from Design By Humans. They will also receive a Pulse YoYo and Metal Drifter YoYo from Duncan YoYo.
Second place winner will receive their choice of a Hoodie from Design By Humans. They will also receive a Freehand YoYo and Dragonfly YoYo from Duncan YoYo.
Third place winner will receive their choice of a t-shirt from Design By Humans and a Throw Monkey YoYo from Duncan YoYo.
Participants can learn more about the Duncan Yo Yo and DBH giveaway in their blog here.
United States Duncan Yo Yo Crew
Fourteen-year-old Colin Beckford from Cleveland, Ohio is State and regional champion in the 3A division (two spinning yo­yos) and a member of Duncan Crew USA. Beckford is 4th in the nation.
Sebastian "Sebby" Brock is a professional performer living in Florida and is born competitor and innovator with titles on the state, regional, national, and even international level, but still manages to win with an entertaining style.
Augie Fash began playing yo­yo when he was 9 years old, he won the US National Contest, toured the world, and has even been lucky enough to have his face on a few trading cards.
Bryan Jardin is a professional with 6 Philippine National Championship wins and 2x Asia Pacific Championship wins. Jardin was born and raised in the Philippines but now lives in Florida
Zac Rubino placed 5th at the World Yo­Yo Contest and has won the three most prestigious yo­yo contest in the nation, reigning supreme as the current US National Champion!
These players had some amazing moves which can be seen here.
One Of A Kind Graphic Apparel & Commitment to Quality
There are over 15,000 international artists from 150 countries contributing to the Design By Humans community, making it possible for DBH to offer one-of-a-kind products for humans of every shape and size while taking advantage of the most efficient, vibrant, and eco-friendly DTG printing practices. Men's and women's graphic tank tops and crewneck sweatshirts, are a recent addition letting more humans illustrate their lifestyle with custom artwork. In addition to graphic t-shirts, tank tops and sweatshirts, Design By Humans also offers custom artwork designed by artists around the world on Giclee Art Prints, iPhone Cases and Galaxy phone cases.
All apparel products at Design By Humans feature an upgraded print area, allowing for a larger design to be printed onto the product. The artwork printed onto DBH apparel is larger than any of their competitors and is exceptionally vibrant and long lasting. All DBH apparel has been garment-dyed and washed for premium softness and minimal shrinkage. Customers can rest easy knowing that DBH has built high-quality products and accountability into their business model. All graphic apparel will also continue to uphold Design By Humans' commitment to the environment by using sweatshop-free blanks and eco-friendly inks.
About Design By Humans
Design By Humans was started in 2007 with the simple vision of bringing artists from around the globe together to give them a platform to produce wearable art that tells a story, strengthens humanity and inspires life through creativity and design. The DBH Collective initiative is inspiring amazing artists and giving them a unique foundation to share artwork through a personal online storefront.
###
If you'd like more information about this topic, please call +855 333 9836 x 302 or email press(at)designbyhumans(dot)com.