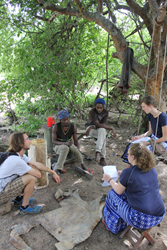 Tanzanians may lose a year's harvest to a hungry elephant or precious livestock to a marauding leopard.
Houghton, New York (PRWEB) December 12, 2014
During the spring 2014 semester, 14 (and others from Wheaton and Westmont colleges) conducted research in villages outside Ruaha National Park in Tanzania to gain insight on the continual conflict between the national park and the locals who illegally hunt big game. This research was part of the annual Houghton in Tanzania semester led by Dr. Eli Knapp, assistant professor of intercultural studies, biology and earth science at Houghton.
"While Americans living near parks may get annoyed with deer munching the daffodils or bears knocking over trashcans, Tanzanians may lose a year's harvest to a hungry elephant or precious livestock to a marauding leopard," said Dr. Knapp. "To recoup such losses—or simply provide for a hungry family—some Tanzanians take it upon themselves to enter the nearby national park and hunt. Without enough money for buying permits, many are forced to do so illegally."
As part of Knapp's Human Ecology course, students studied conservation theory, developed a heuristic research question and devised a questionnaire. The questionnaire was then translated into Swahili and each student used their developing Swahili abilities to administered surveys in Tungamalenga Village outside Ruaha. During the week of research, students lived in tents and fell asleep to Africa's sonorous ballad of bats and bushbabies. Interactions between people and protected areas make up a complex milieu where it's difficult to disentangle winners from losers. Understanding this web is therefore critical for the livelihoods of both the local people and the wildlife.
While the bulk of the research was geared toward uncovering the scale and magnitude of human-wildlife interactions, students also sought to assess the impact of local ecotourism ventures that have sprung up in the last decade. To do so, groups visited seven local ecotourism outfits and interviewed owners, managers and employees. The aim was to determine if and how monetary and developmental benefits are impacting local communities around the park. The hope is that benefits are helping local households deal with the costs of living next to large protected areas, and furthermore, that these benefits will one day provide local people enough incentive to refrain from illegal hunting and protect the world-renowned resources near their homes.
Through the research, students were able to develop relationships with the local people, particularly five local Tanzanians that assisted with the project. Upon the students' departure from the study area, two Tanzanians continued on with the research, extended it to neighboring villages and continue with it to this day. The students and Tanzanian research team had completed over 500 questionnaires with local people and organizations by the end of the Houghton-in-Tanzania semester.
Now armed with reams of data, Houghton students Lauren Bechtel ('16) and Nathan Peace ('16) are collaborating with Dr. Knapp to analyze the data and write up their findings.
"Ultimate success will hinge on a future team of students returning to the area to present the findings to village and government officials," commented Dr. Knapp. "With findings in the hands of local leaders, new and improved management strategies can spring from the ground up."
There is an axiom in wildlife circles that conservation is ultimately about people. By forgoing creature comforts and investing in local people, students on the Houghton-in-Tanzania semester are testing the veracity of this claim. In so doing, they're hoping to find ways of making living next to a large national park benefit both the people and wildlife that compose this dynamic socio-ecological system.