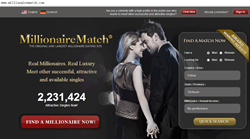 Los Angeles California (PRWEB) December 10, 2014
One of the most popular millionaire dating sites, MillionaireMatch.com, has released the results of their latest survey on Dec.09. The aim of the survey was to discover which keywords are most frequently used by the users of the site in order to compile a full and comprehensive picture of their behavior and interests.
The results showed that the keywords that Millionaire Match users often search for are the following: model (24.89%), Asian (22.28%), hot (17.72%), Jewish (17.92%), golf (17.19%).
Everybody wants to date a model
Good-looking male or female models easily attract successful, rich and famous people. It is not surprising that "model" is listed as the top 1 most frequently searched keyword by users on MillionaireMatch.com. Models are mostly perceived as surreal while their beauty and allure represent special power that inspires people serving, in the same time, the individuals' desire to feel important.
Asian perseverance and dedication
When people type in a word "Asian", they probably have in mind people of Asian ethnicity. Asians give the impression of hard-working people who hold to their tradition and have strong bond with their big families. It is a conventional wisdom that Asian women are gentle and loyal while men are serious and strongly committed to their partner. Whether it is just a myth or not, it can be one of the reasons why "Asian" is searched so many times.
Hot people in the spotlight
"Hot" is certainly not a surprise on this list of keywords. Handsome men and women are always popular, either on online dating or in real life. Hot men or women often attract more attention.
Strong Jewish ties
It is very common that people aspire to find a partner who shares their religion. In this way, they are creating a sturdy spiritual bond which can be a good basis for a stable and healthy relationship. People who belong to the same religion, Jewish in this case, communicate on a specific level; they better understand each other and they are usually like-minded when it comes to the spiritual development of an individual.
Golf – "rich man's game"
People who have similar interests and affinities are certainly more likely to appeal to each other. Maybe the rich are the samplers of golf, the most popular sport among millionaires, but today golf courses are also affordable to many different social groups. Furthermore, sports can create an amazing sense of closeness.
About MillionaireMatch.com
As a millionaire dating site for over 13 years, MillionaireMatch.com was voted "Best of the Web" by Forbes.com. Members on this site include CEOs, pro athletes, doctors, lawyers, investors, entrepreneurs, beauty queens, fitness models and Hollywood celebrities, just to name a few. It is the best place to find successful people.