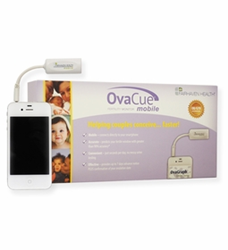 Bellingham, Washington (PRWEB) December 10, 2014
Fairhaven Health, a leading innovator of fertility, pregnancy and nursing products, has launched their http:// OvaCue Mobile Fertility Monitor for iOS devices.
OvaCue Mobile is the next generation of fertility monitoring, offering users an accurate and easy way to pinpoint their fertile window and predict ovulation. It uses the same technology as the traditional OvaCue Fertility Monitor, but doesn't require the need for a separate device. The OvaCue has been shown to be 98.3% accurate in pinpointing the fertile window.
To get started, users need to download the FREE OvaGraph App onto their iOS device. Then, they will simply plug the mobile adapter into their iOS device. Both the oral and vaginal sensor will plug directly into the adapter to take readings daily. That's right, no messy urine testing! The readings take just a few seconds a day and will be recorded and interpreted daily.
The OvaCue can predict ovulation up to seven days in advance. Ideal for women with both regular and irregular cycles, the OvaCue works by measuring changes in the electrolyte levels of saliva and cervical mucus using the included oral and vaginal sensors.
The OvaGraph App saves and stores all of the data, allowing users to chart all of their fertility tracking tools, provides access to an active community of other trying-to-conceive, and more.
Since 2002, Fairhaven Health has been a leader in developing innovative products to safely and naturally promote fertility, wellness during pregnancy and breastfeeding success. With products developed and formulated by a diverse panel of medical experts, Fairhaven Health has long been a trusted leader in the field of reproductive health with emphasis on healthy parents and babies through quality products.