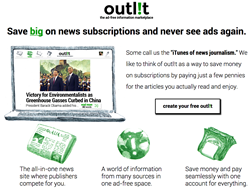 "Digital news media today is in need of marketplace efficiency; one medium connecting readers and publishers directly and seamlessly."
Washington, D.C. (PRWEB) December 10, 2014
À la carte news website Outlit (outl.it) announced a January launch date for the company's "iTunes of News" site following a surge in reader interest to join the site's beta release in September, the company said in a statement.
Outlit aims to save readers money on news subscriptions by granting access to behind-paywall content for pennies per article, all on an advertising-free medium. With online digital subscription rates increasing in the U.S., according to a November report in Bloomberg, the company believes it can capitalize on an opportunity to present a lower-cost, higher-access option to readers of content online. Outlit is the first ever virtual marketplace for news journalism in the United States.
"Digital media today is in need of marketplace efficiency; one medium connecting readers and publishers directly," co-founder William Treadway said. "Outlit lets readers see free previews of content and if they want to read more, they'll pay a few cents to see exactly what they want, without distracting ads."
Outlit's free-to-use social reading platform enables anyone to discover new voices and sources, and customize their own reading lists by picking and choosing the publications they want to read. Reading lists will blend many sources on a feed of preview content, and readers can pay pennies for the full content they actually click to read. The company is assembling a diverse group of publications and news sources that will compete directly for readers.
For publishers, especially those that have struggled to earn from digital content, Outlit's marketplace is an opportunity for a new revenue stream from new audiences around the world. Outlit also enables journalists to publish their own blog content to the marketplace in a bid "to level the playing field for content creators of all sizes," Treadway said.
"It's been the small and local publishers that have suffered the most, but that content is often the most valuable to American readers."
After launching in the United States, D.C.-based Outlit aims to expand to international markets where per-capita paywall readership rates are higher.