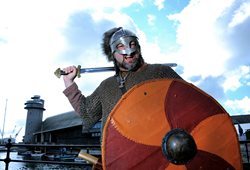 You might think you know the Vikings but you will have never experienced them in the way this new exhibition promises.
Falmouth, Cornwall (PRWEB UK) 11 December 2014
Ships and boats were vital to Viking expansion; they explored and colonised, were invaders and migrants and the seas and rivers were the highways and byways to amassing huge wealth and power through raiding and trading.
Their power was built on their knowledge of boatbuilding and their seafaring skills, enabling them to sail across the Atlantic's icy waters to Newfoundland and Iceland, down to the warm Mediterranean to Istanbul and as far East along the river Volga as Ukraine and Russia.
Visions of horned helmets, unkempt beards and fearsome raiding fighters carried by longships that were dragon headed war beasts come to mind when thinking of Vikings. However, this new show dispels the myth and reveals that just like us they also wore jewellery, combed their hair and many were entrepreneurs, using smaller boats and ships to do business and seek new opportunities far from their Scandinavian homelands.
This new show invites you to encounter these Norse voyagers and the people and things they met along the way, contrasting the mayhem of the raiders, pillagers and ransackers with the resourceful trader, boat builder, craftsman and family man, woman and child.
The humanising of the Vikings is conveyed through engaging interactive displays that amplify what life was like as a Viking. With institutional and loaning partners including the British Museum, National Museum of Ireland, National Museum of Denmark and Manx National Heritage and others, a stunning number of artefacts show a culture that enjoyed ostentation and hierarchy as well as ritual, religion and the simplicity of family life.
These archaeological finds, which are over 1000 years old, include weaponry, jewellery, household implements, slave chains and coins, richly showing the global reach of the Vikings and their ships.
Richard Doughty, Director of National Maritime Museum Cornwall says: "It is enormously exciting for National Maritime Museum Cornwall to be bringing the Vikings to Falmouth and hosting historically significant artefacts, in what is undoubtedly our most important exhibition to date. The Museum's legacy of award winning work has now afforded us the opportunity to access national and international collections, securing loans with major partner Museums, and offering Cornwall and the South West a unique first in being able to see these items outside of these national and international institutions."
"This new state of the art show has taken years to develop. You might think you know the Vikings but you will have never experienced them in the way this new exhibition promises. All I can say is watch out, the Vikings are coming!"
The theatre is provided by a beach market scene. A full scale replica of a 14m coastal cargo Viking ship, from 11th century Denmark, invites you to climb aboard and discover what it was like to sail and row in these awe inspiring vessels, and explore the wares they carried.
The iconic Viking small boat, a 6m Norwegian faering, built by 'apprentice Viking boat builders' from Falmouth Marine School, is the centrepiece of a 'touch and feel' boat builder's yard. Visitors can hold tools and materials used to design these clinker-built ships with their shallow drafts, which allowed them to navigate inland rivers and conquer kingdoms.
The history of Britain and Ireland was transformed by the impact of Viking raiding and colonisation. We still utter their words in our everyday language such as starboard, berserk, kid and ransack. What began as small encampments up river grew to be Viking towns such as Dublin, which for a time was the centre of the European slave trade. Cornwall was very much part of the Irish Sea world, and the exhibition will reveal tantalising evidence for Vikings in Cornwall.
Dr Tehmina Goskar, Exhibitions Registrar at the Maritime Museum says: "The story of the Vikings is incredibly alluring. Not only have they left us with a legacy of beautiful storytelling in their Sagas but also an astonishing material culture. Above all, the Vikings were sailors, their men, women and children thrived because of their skills with boats and seafaring so with our harbour location, celebrating the sea and small boats, there is no better place to come to hear their stories.
"I am completely delighted to bring amazing Viking antiquities to Cornwall for the very first time, some of which have never been on display in any museum before. Working closely with our Guest Curator Dr. Gareth Williams of the British Museum, a world-leading expert in the Vikings and also an outstanding Viking re-enactor himself, has been an immense privilege and a lot of fun, and hopefully visitors will feel this from the way we tell the story of the Viking Voyagers in the show."
The two year exhibition, funded by a grant from the Heritage Lottery Fund and a number of generous trusts and foundations, aims to show how the Vikings were a maritime culture, not an ethnic group but something you became when you wanted an adventure.
Ben Lumby, Exhibitions Manager concludes: "Aboard their ships Vikings reached further than any culture had before them and they have left huge legacies behind since the 300 years of the Viking Age from the 8th to 11th centuries. This atmospheric exhibition will evoke the Viking world through thought-provoking stories, stunning exhibits and engaging interactives which take you on an epic journey. We invite you to discover who the Vikings really were and what was the secret to their success."
Viking Voyagers runs from 20 March 2015 to 22 February 2017.

NOTES TO EDITORS:
National Maritime Museum Cornwall
Founded in 2003, the multi-award winning Museum in Falmouth has 15 galleries, over five floors beautifully illustrating the past, present and future of this island nation. Winner of the Telegraph Family Friendly Museum of the Year award 2014, Cornwall's best museum 2014 as and silver winner of the UK Heritage Attraction of the Year at the 2014 British Travel Awards, the Museum features a number of stunning exhibitions dedicated to the sea, boats and Cornwall. It is not government funded and is supported through 100% voluntary donations and commercial activities. http://www.nmmc.co.uk
For more information and images please contact Tamsin Loveless or Michael Sweeney on +44 (0) 1326 214536/215558 tamsinloveless@nmmc.co.uk, michaelsweeney@nmmc.co.uk
British Museum
The British Museum was founded in 1753, the first national public museum in the world. From the outset its mission was to be a "museum of the world for the world". This ambition still lies at the heart of the Museum today. The collection tells the story of cultural achievement throughout the world, from the dawn of human history over two million years ago, until the present day. The Museum is committed to lending its collection as widely as possible across the UK and internationally. http://www.britishmuseum.org
The British Museum's National programmeworks with museum's across the UK to engage with audiences throughout the country. It includes single loans, touring exhibitions, Partnership Galleries and skills exchange. The Museum works with venues of all sizes to share its collection and expertise as widely as possible across the UK.
For further information, please contact the Press Office on 020 7323 8583 / 8394 or communications@britishmuseum.org
The National Museum of Ireland
The National Museum of Ireland is a premier cultural institution and home to the greatest collections of Irish material heritage, culture and natural history in the world. It has 4 locations:
National Museum of Ireland-Archaeology - situated in Kildare Street, Dublin 2, houses the national archaeological collections including world famous examples of early historic period and medieval art including the Ardagh Chalice and Tara Brooch. It also holds the finest collection of prehistoric gold artefacts in Europe.
National Museum of Ireland - Decorative Arts & History - was opened in 1997 and is located at Collins Barracks, Dublin 7. It has a wide range of collections including silver, furniture, costume, jewellery, coins, medals, ceramics and glass in a series of themed exhibitions. The Museum presents a perspective of Ireland over the last four centuries with particular emphasis on the 18th and 19th centuries.
National Museum of Ireland - Natural History, Merrion Street, Dublin 2 - contains an impressive collection of zoological specimens from both Ireland and the wider world. The building is a museum in the Victorian 'cabinet style' built to house a wide range and comprehensive collection from the later nineteenth century and has changed little over centuries.
National Museum of Ireland –Country Life opened in September 2001 and is situated at Turlough Park, Castlebar, Co. Mayo. It houses the national folklife collection and is the only branch of the National Museum outside the capital. It tells the story of people in rural Ireland, emphasising the continuity of traditions of lifestyles, established for several hundred years and lasting well into the 20th century
Further information can be found on our website http://www.museum.ie
The National Museum of Denmark
The National Museum is Denmark's largest museum of cultural history. The museum's main building is an 18th century classical mansion, just a stone's throw from "Strøget" in the centre of Copenhagen.
The National Museum is the museum for Denmark, where you can follow the history of the Danes right up until the present day. You can also take a trip around the world, from Greenland to South America. natmus.dk.en (+45) 33 13 44 11
Manx National Heritage
Manx National Heritage is the Isle of Man's statutory heritage agency. It manages a significant proportion of the island's physical heritage including 3000 acres of coastline and landscape. It holds property, archives, artwork, library and museum collections in trust for the nation. http://www.manxnationalheritage.im +44 (0) 1624 648000
Falmouth Marine School
Falmouth Marine School provides a comprehensive selection of courses from introduction to degrees in partnership with Plymouth University. We specialise in Boatbuilding, Leisure & Watersports, Marine Engineering and Marine Science & Biology.
We have an excellent international reputation for our marine courses with superb facilities including boatbuilding and engineering workshops, a dedicated marine science lab and a well-equipped watersports centre. Our tutors combine industry experience with academic expertise and are active in their field through research and personal interest in their subjects. http://www.falmouthmarineschool.ac.uk +44 (0) 1326 310310
Heritage Lottery Fund
From the archaeology under our feet to the historic parks and buildings we love, from precious memories and collections of rare wildlife, we use National Lottery players' money to help people across the UK explore, enjoy and protect the heritage they care about. http://www.hlf.org.uk
FOR FURTHER INFORMATION, INTERVIEWS AND IMAGES PLEASE CONTACT:
Tamsin Loveless, Head of Communications & Development on 01326 214536 Email tamsinloveless@nmmc.co.uk or
Michael Sweeney, Communications Manager on 01326 214588 Email michaelsweeney@nmmc.co.uk
http://www.nmmc.co.uk