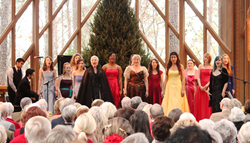 Little Rock, AR (PRWEB) December 10, 2014
The Muses Creative Artistry Project will present its Ninth annual "Voices of Angels" sacred Christmas concert at 6 p.m. on Saturday, Dec. 13 and 3 p.m. on Sunday, Dec. 14. The concert will be held at the Muses Cultural Arts Center, 428 Orange St., at the Anthony Chapel in Garvan Woodland Gardens.
These performances are the final programs of the 2014 subscription series, "Four Seasons in Art & Song." Audiences are invited to this vocally-stunning and spiritually-uplifting musical experience.
Each year since 2006, the Muses Creative Artistry Project has presented audiences with moving Sunday afternoon Christmas garden programs. The "Voices of Angels" sacred Christmas concert is a musical interlude which transports listeners away from the stress and rush of hectic holiday schedules into an ethereal space, a sacred, peaceful place, where the mind quiets, the breath deepens and pulse rates relax, as people remember why they celebrate this time of year.
The concert program features the female voices of Muses' professional performers, Deleen Davidson, Ruth'e Korelitz and Katie Bieber, in celestial combinations joined by pianist Kristen LaMadrid and instrumentalists Shelley Martin on flute and Steve Suter on trombone. Young vocalists from Henderson State University and area high schools will perform, including students from the ASMSA choir, in conjunction with the Muses Vocal Apprentice Program, which is designed to mentor and present young voices in concert. This year, the Muses will feature ballet dancers from the Hot Springs Children's Dance Theater who will perform excerpts from Tchaikovsky's "The Nutcracker."
Through the timeless works of classical composers such as J.S. Bach, Felix Mendelssohn, Maurice Ravel, Benjamin Britten and John Rutter, the Christmas narrative will be expressed in magical, musical sounds of the season.
Tickets are $25 each and are available online at http://www.themusesproject.org or by calling the Muses Cultural Arts Center at 501.609.9811. Artists, students and teachers are invited to attend the Dec. 13 performance at the Muses Cultural Arts Center for free; please call to register with the Muses and reserve a seat. This concert is sponsored by Walter Hussman and the Arkansas Democrat Gazette, both of which have made it possible to extend free admission to area artists and teachers.
About the company:
The Muses Creative Artistry Project is a 501(c)(3) non-profit arts organization dedicated to preserving classical art and music through performance and education. They believe that classical artistic education and high-quality cultural experiences through live performance are crucial to a well-rounded and healthy community. Each year, The Muses presents a series of concert events aligned with the four seasons, and performed at various regional venues. Fine art, music, and spoken word are presented at each program, representing different artistic disciplines and styles. Various seminars and workshops allow participants to experience creative renewal and deeper understanding of their own need for artistic expression and balance in their lives. This blending of fine art, classical music and creativity education can have profound effects on the participants and in the community at large.