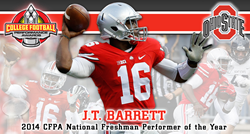 Charleston, SC (PRWEB) December 11, 2014
J.T. Barrett is the winner of the 2014 College Football Performance Awards (CFPA) National Freshman Performer of the Year Trophy. Previous winners of the award include: Jameis Winston (Florida State), Johnny Manziel (Texas A&M), Braxton Miller (Ohio State), Marcus Lattimore (South Carolina), and LaMichael James (Oregon).
Barrett finished the season with a school record 45 total touchdowns and 3,772 total offensive yards. Barrett's performance helped Ohio State claim the 2014 Big Ten title and a semifinal playoff berth against SEC Champion Alabama.
As a team, Ohio State ranks among the FBS leaders in numerous statistical categories: third down conversion percentage (4th), defensive interceptions (4th), net punting (6th), and yards per pass attempt (7th). Ohio State defeated Wisconsin 59-0 in the 2014 Big Ten Championship Game.
About College Football Performance Awards:
The goal of College Football Performance Awards is to provide the most scientifically rigorous conferments in college football. Recipients are selected exclusively based upon objective scientific rankings of the extent to which individual players increase the overall effectiveness of their teams.
As prominent scholars from a wide variety of disciplines note, CFPA eliminates the politics and biases that vitiate balloting-based awards. Furthermore, CFPA has received praise from both Republican and Democratic White House officials for promoting objectivity and fairness in college football.
CFPA is now in its seventh season of player and team performance recognition. Twenty-eight CFPA winners have been first-round NFL Draft selections.