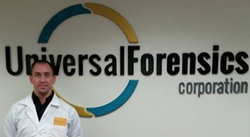 Dr. Reese is a talented and experienced professional in the fields of genetics and molecular biology. We are fortunate to have him join the Universal Forensics team
Somerset, Pennsylvania (PRWEB) January 15, 2015
In a recent announcement by Universal Forensics Corporation, company President and CEO, Julie Cramer, commented, "We are pleased and proud to make the appointment of Dr. Brian Reese to the position of Senior Scientist. Dr. Reese has an extensive background and experience in genetics and molecular medicine which will serve us and our industry well as we continually explore new methods to improve our DNA paternity and relationship testing protocols. We invite all of our distributor lab partners to get to know Dr. Reese and welcome him to our growing team of professionals."
Dr. Reese received his undergraduate degree in biology and chemistry from Allegheny College of Meadville, PA. and his doctorate degree from the prestigious Johns Hopkins University School of Medicine where he majored in molecular medicine. Dr. Reese also received a research fellowship from the University of Pittsburgh Drug Discovery Institute. Most recently, Dr. Reese served as a Technology Consultant with Thermo Fisher Scientific, one of the leading biotechnology companies in the United States. Dr. Reese and his wife, Amy, are natives of Western Pennsylvania and when asked about his new position with Universal Forensics, Brian commented, "My wife and I are thrilled for the opportunity and new challenge...we love the outdoors and all the recreational possibilities that Western Pennsylvania has to offer our family. We are so glad to be able to call this area home."
Universal Forensics Corp. is an accredited AABB (American Association of Blood Banks) laboratory headquartered in Somerset, Pennsylvania. Additional information can be obtained through the company website http://www.ufclab.com or by contacting services(at)ufclab(dot)com.