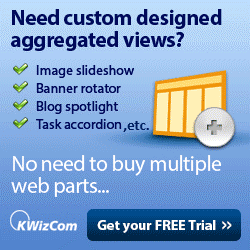 Toronto, ON (PRWEB) December 10, 2014
KWizCom Corporation, a leading developer of SharePoint Forms & Mobile Solution, as well as multiple other cutting-edge web parts and add-ons designed to expand Microsoft SharePoint, added numerous additional display layouts to their Data View Plus web part. This powerful add-on now includes the functionality of 7 most needed web parts for portals and publishing sites.
Data View Plus allows users to effortlessly create a customized, branded display of aggregated SharePoint list items in a way never before possible. Customers will be relieved to find out that unlike SharePoint's out-of-the-box Data View web part, KWizCom's Data View Plus web part does not require them to have the high technical skills of SharePoint Designer such as XSL in order to create amazing display layouts.
A set of great-looking, ready-to-use views are included in the Data View Plus web part, such as:

Task-Accordion
Blog Spotlight
Image Slideshow
Banner Rotator
News marquee
Fade in/out news box
Upcoming birthdays
Clients do not have to purchase 5 or more different web parts as all these features are available in a single solution and at a much lower cost: KWizCom's super-flexible viewer includes them all! Moreover, customers can add their own custom templates. With this web part, all users have to do is simply copy the HTML code of their desired view - NO need for any messy XSL!
If you would like to find out first-hand what the software it like, KWizCom offers a no-cost 30 day trial version of Data View Plus. Click here to download.
Follow KWizCom on Twitter https://www.twitter.com/KWizCom
Become a fan of KWizCom on Facebook: https://www.facebook.com/KWizCom
Contact a KWizCom Account Specialist at +1-905-370-0333/+1-855-KWIZCOM or info@kwizcom.com
About KWizCom Corporation
Since 2005, KWizCom has provided innovative solutions and services to make SharePoint even better for over 5,000 companies worldwide. KWizCom's solutions and services expand Microsoft SharePoint out-of-the-box capabilities, streamline workflow, maximize efficiency and enhance over-all productivity for hundreds of thousands of users. KWizCom, a Gold Certified Microsoft Partner, is headquartered in Toronto, Canada. KWizCom's mission is to provide clients with high quality products geared toward the perfect solution for their business goals, which is always bundled with great service and exceptional customer support. KWizCom Software is available to federal, state & local government agencies through GSA IT Schedule 70 Contract. Please visit www(dot)kwizcom(dot)com to find out more about KWizCom's clients, people, partners and solutions.