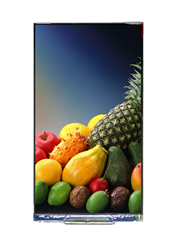 Santa Clara, CA (PRWEB) December 10, 2014
Tianma NLT America (TNAM) and Tianma Microelectronics USA have announced the introduction of new 4.66" and 5.7" 720 x 1280 (720 HD) TFT display modules. The TM046JDHP01 and TM057JDHP04 modules offer HD quality imaging and wider viewing angles.
Both modules utilize a-Si TFT display technology with SFT for wide viewing angles. A proprietary technology developed by NLT Technologies, Ltd., a Tianma Group company, SFT (Super Fine TFT) technology induces liquid crystal molecules to line up evenly and rotate horizontally when electrically charged. The rotation angle of the liquid crystal molecules changes according to the amount of electrical voltage applied and affects the amount of light that is transmitted. The liquid crystal molecules are always positioned horizontally, so they appear the same size from the front. Therefore, even if the viewing angle changes, there is little deviation in brightness or color, providing high quality images.
These display modules can be used in a variety of applications, including industrial, medical, commercial and retail. Their high resolution and wide viewing performance make them ideal for a broad range of applications and products. They feature a MIPI high-speed serial interface.
The new LCDs' performance and quality level are very competitive with the higher-end small- to medium-size display products on the market. Both displays are currently in production and are available from Tianma NLT America and from Tianma Microelectronics USA. For more information, contact Tianma NLT America, Inc., 2801 Scott Blvd., Santa Clara, CA 95050. 408-816-7010; marketing(at)tianma-nlt.com; http://www.tianma-nlt.com.
About Tianma NLT America
Tianma NLT America, Inc. (TNAM) was established in November 2013 as a joint venture between Shanghai AVIC Optoelectronics Co., Ltd. and NLT Technologies, Ltd. TNAM is focused on providing the Americas with LCD products specifically for industrial and professional applications. With an extensive lineup of 2.X to 21.X-inch active-matrix LCD modules and a network of best-in-class distributors and value-added partners, Tianma NLT America provides complete display module solutions to a broad base of customers and applications. The range of LCD modules offered includes ultra-high resolutions, wide temperature ranges, high contrast ratios, rich color gamut, backward compatibility, LED backlights, and transflective viewing for use in diverse lighting environments. Additional information can be found at http://www.tianma-nlt.com
About Tianma Microelectronics USA
Tianma Microelectronics USA (TMU) was founded in 1983 and specializes in design, manufacturing and supply of high quality LCD products. The company is a leading supplier of small-to-medium size displays. TMU offers a full range of LCD display solutions from graphic monochrome LCDs to full color TFT display modules; with custom display design and long term product support. The company will be introducing AMOLEDs in 2015. http://www.tianma-usa.com
The content in this press release, including, but not limited to, product prices and specifications, is based on the information as of the date indicated on the document, but may be subject to change without prior notice.