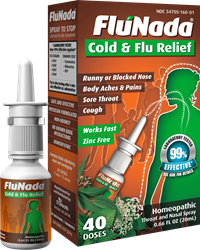 FluNada Cold & Flu Relief is a revolutionary new product that is available without a prescription and can help at the onset of cold & flu like symptoms, specifically H3N2.
Reston, Virginia (PRWEB) December 10, 2014
On Wednesday December 3, the Center for Disease Control issued a health advisory regarding this season's flu strains, specifically H3N2. The full report can be viewed here.
Federal Health officials have stated that although this is still the beginning of flu season, most of the recent flu cases have been caused by the H3N2 strain. "We know that in seasons when H3 viruses are predominant, we tend to have seasons that are the worst flu years, with more hospitalizations from flu and more deaths from the flu," Dr. Tom Frieden said.
Vaccines are typically formulated six to eight months in advance. This year's flu vaccines are a good match for only 48% of these H3N2 strains. That means the vaccine – though still the best defense against the flu – is likely to offer less protection than in years past, Frieden said.
The CDC states that in addition to vaccines, antivirals such as Tamiflu and Relenza are available via prescription following the onset of flu like symptoms. There is also a new homeopathic option, FluNada Cold & Flu Relief, available over the counter that has been laboratory tested 99% effective against the H3N2 influenza virus as well as three other classes of influenza virus (H1N1, H5N1, H7N9).
Dr. Steven Schwartz, the founder of STS Health, chaired an influenza pandemic preparedness task force. He warns that good health habits such as washing your hands, covering your mouth and being vaccinated are critical, however, when we see trends suggesting that the flu season could be severe, we need to take action and be prepared.
About STS Health
STS Health was founded in 2009 by Dr. Steve Schwartz, a licensed family physician with more than 25 years of experience. Inspired by his service on an influenza pandemic preparedness task force and his passion for health and wellness, Dr. Steve Schwartz embarked on a mission to leverage science to save lives and reduce the social and economic impact of influenza. STS Health provides consumer health products, such as FluNada and AirVita that are scientifically developed using safe, natural ingredients.