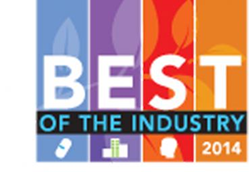 The Arty Water Company embodies the spirit of what truly defines this industry.
(PRWEB) December 12, 2014
The Arty Water Company, maker of ARTY Water, was selected by Nutritional Outlook's editors and readers as one of eight organizations whose efforts, business savvy, and persistence in 2014 are driving excellence in the dietary supplements and healthy foods/beverages industry at large.
The Best of 2014 winners are diverse, yet all share the same desire for excellence and innovation in what they do. The Arty Water Company embodies the spirit of what truly defines this industry.
Plant-based waters are quickly on the rise, and as the first commercially produced, ready-to-drink artichoke water on the market, ARTY Water is proud to step into the limelight and offer consumers a plant-based alternative to fruit-based beverages.
"There is a huge battery of water products on the market," concedes Howard Ketelson, CEO and co-founder of ARTY Water. "It's been interesting to watch the amount of innovation over the past year with maple, watermelon, and other products providing consumers with such a wide range of choices."
While he gives props to them all, ARTY Water, he says, is uniquely different. For starters, it transforms a notoriously imposing produce item into a beverage that is 100% consumable.
"Artichokes are one of the most underused and misunderstood vegetables," says Ketelson, noting that roughly 30%–40% of the plant is typically wasted by consumers. With that in mind, Ketelson and his colleagues developed a proprietary process that uses the whole artichoke—from stem to tip—to make ARTY Water. The process is one part of the company's business plan, which also includes a strategic intellectual property plan to make sure the process stays unique.
As the team begins testing a new version of ARTY made with ginger root - not to mention two non-water concepts that will leave nothing to waste after the bottling process - CEO Ketelson and crew take pride in giving consumers a water that "comes from the hands of the land."
"It is bottled directly from fresh California artichokes in a very short period of time," he says. "We feel very strongly about what we produce and value what ARTY brings to the table."
About Nutritional Outlook
Nutritional Outlook keeps manufacturers of dietary supplements and healthy foods and beverages informed about new ingredients, ingredient science, industry news, processing technologies, packages, quality-control systems, regulations, global markets, product trends, and more. Winner of the Western Publishing Association's 2013 and 2014 Maggie Award for Best Trade Publication. Visit http://www.nutritionaloutlook.com/1412/Arty to learn more.
About Arty Water
Arty Water is the world's first plant-based beverage made with fresh California artichokes, lemons, apples and spearmint. Arty Water is a multi-functional beverage containing antioxidants, electrolytes, vitamins, and minerals. It is is vegan, non-GMO, low-glycemic, and contains no preservatives, artificial ingredients or caffeine. Made in the USA, Arty Water sources local ingredients and supports farming communities that promote sustainability and conservation. Arty Water Company is headquartered in Newport Beach, Calif. For more information, visit http://www.artywater.com.