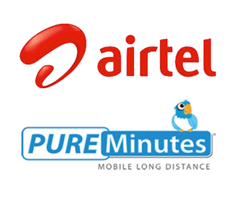 New York, NY (PRWEB) December 12, 2014
Pure Minutes and telecom giant Bharti Airtel Limited are excited to announce a recent traffic exchange agreement, allowing the two telecom service providers to create direct interconnections which enable customers to send and receive phone calls in an efficient and cost-effective manner.
A partnership with Bharti Airtel, the 4th largest mobile operator in the world, will allow Pure Minutes to strengthen the quality of its connection in Airtel's extensive South Asian markets. In turn, Bharti Airtel will gain access to Pure Minutes' signature markets in North and South America. This milestone agreement will ensure a competitive advantage for both companies in the growing telecom market. This model further ensures a balanced cost burden across each network, which translates to quality and affordability for consumers.
"Our primary focus is on providing secure, high-quality connections for our customers, and doing so in a manner that is cost effective for them. We're excited to work with one of the world's premier telecom leaders to continue making this happen," says Ayaz Sikandar, Senior Account Executive at Pure Minutes.
About Bharti Airtel Limited
Bharti Airtel Limited is a leading global telecommunications company with operations in 20 countries across Asia and Africa. Headquartered in New Delhi, India, the company ranks amongst the top 4 mobile service providers globally in terms of subscribers. In India, the company's product offerings include 2G, 3G and 4G wireless services, mobile commerce, fixed line services, high speed DSL broadband, IPTV, DTH, enterprise services including national & international long distance services to carriers. In the rest of the geographies, it offers 2G, 3G wireless services and mobile commerce. Bharti Airtel had nearly 287 million customers across its operations at the end of Dec 2013.
About Pure Minutes
Headquartered in New York City, NY, Pure Minutes is a leading provider of international prepaid calling and Top Up mobile phone payments. Using revolutionary technology that works with any landline or mobile phone service provider, Pure Minutes eliminates the need for calling cards and inconvenient PINs. With signature low rates and high-quality connection worldwide, Pure Minutes is developing as a global brand with a diverse and rapidly growing subscribership.
Pure Minutes, LLC
45 Broadway Ste 1440
New York, NY 10006
Site: http://www.pureminutes.com
Email: info(at)pureminutes.com
Support: 866.558.4169