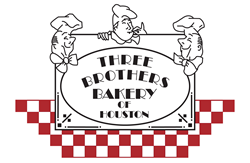 "The response and buzz we've seen surrounding the Pumpecapple has been incredible." - Robert Jucker
Houston, TX (PRWEB) December 10, 2014
Following a short period of a sold out status, Three Brothers Bakery's famous Pumpecapple Piecake is once again available for orders, just in time for the holidays. The 5th generation local bakery is back to selling this decadent dessert creation, after having reached an unprecedented level of popularity and sales since its creation in 2010.
Having recently risen to fame thanks to local and national appearances on KTRK ABC 13, Saturday Night Live Weekend Update, Buzzfeed, CBS This Morning, HLN Weekend Express, Country Living, Good Morning America and more, Pumpecapple Piecake sales soared, resulting in the product selling out for the first time since it made its debut four years ago, ceasing of orders for the Thanksgiving holiday.
"The response and buzz we've seen surrounding the Pumpecapple has been incredible," says Bobby Jucker, bakery co-owner and fifth generation baker. "When we created this hybrid dessert four years ago, we never thought it would become such a phenomenon and receive so much attention. We are so grateful for all of our loyal customers and new fans that have supported us in this exciting time."
With more than 150 orders for the piecake having been fulfilled for Thanksgiving alone, Three Brothers Bakery has re-opened ordering for the Pumpecapple for the remainder of the holiday season.
Recently dubbed "the turducken of desserts," the Pumpecapple weighs approximately 24 pounds and stands 11 inches tall. Made entirely from scratch, the Pumpecapple Piecake is a combination of the bakery's pumpkin pie, baked inside a spice cake, its award-winning pecan pie, baked inside a chocolate cake and a delicious apple pie, also baked inside a spice cake, all filled and topped with cream cheese icing, a caramel drizzle and pecan pieces.
For more information regarding Three Brothers Bakery, its Pumpecapple Piecake, or any of its other sweet products for the holidays, please contact Allison Huseman at 713-225-0880, or allison(at)integrateagency(dot)com
About Three Brothers Bakery
The traditions of Three Brothers Bakery began in Chrzanow, Poland circa 1825, and were preserved despite the family's concentration camp imprisonment during the Holocaust. Their miraculous liberation, and subsequent move to Houston, brought Eastern European scratch baking traditions to 4036 S. Braeswood Blvd, 12393 Kingsride Lane, and 4606 Washington Ave where the owners are now proud to call themselves "memory makers who just happen to be bakers." Perfecting the process for almost 200 years, each day the fifth generation bakers produce mostly dairy-free breads and pastries, cookies, a full line of specialty dessert cakes and pies, as well as custom birthday, special occasion, wedding and groom's cakes using only the highest quality ingredients.
The Three Brothers Bakery pecan pie was named "the best mail order pecan pie America has to offer" by Country Living magazine, bakery owner, Bobby Jucker competed in the popular 'Food Network Challenge' and has been seen on Food Network's Outrageous Food. Three Brothers won "Best Mail-Order Pies 2012" from Bon Appetit, as well as Modern Baking's "2013 Retail Bakery of the Year" and was part of The Knot's "2010-2013 Best of Weddings" and "Hall of Fame" picks. Most recently, Three Brothers Bakery was named #11 in "America's 50 Best Bakeries" by The Daily Meal, and was awarded the 2013 Jeffrey Butland Family-Owned Business of the Year by the Houston division of the U.S. Small Business Administration. Three Brothers Bakery is a certified Woman-Owned Business through the Women's Business Enterprise National Council, and a State of Texas Historically Underutilized Business.
Follow Three Brothers Bakery on Facebook and Twitter for Houston area news, information and events.