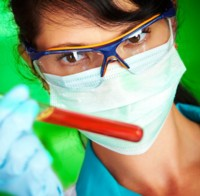 The use of biomarkers of different molecular classes might be a reasonable approach...
Raleigh, NC (PRWEB) December 12, 2014
Doctors in Bochum, German say mesothelioma blood tests that search for only one type of biomarker may be too limiting. Surviving Mesothelioma has just posted an article on the new research. Click here to read it now.
Researchers at the Center of Molecular Medicine tested the blood of 43 mesothelioma patients and 52 asbestos-exposed people without mesothelioma. They found that, when they used both a protein biomarker (mesothelin) and a microRNA marker (miR-103a-3p), the tests were more sensitive and specific.
According to lead author Daniel Weber, "The obtained results indicate that the use of biomarkers of different molecular classes might be a reasonable approach to assemble a biomarker panel [for mesothelioma]."
The combination test was able to correctly identify mesothelioma from a blood test 95% of the time.
"The process of diagnosing mesothelioma can be long and difficult for patients and clinicians," says Alex Strauss, Managing Editor of Surviving Mesothelioma. "A more accurate diagnostic blood test could potentially improve mesothelioma outcomes by allowing patients to start treatment sooner."
For more on the blood test research and the diagnostic process for mesothelioma, see In Search of a Better Mesothelioma Blood Test, available now on the Surviving Mesothelioma website.
Weber, DG et al, "Combination of miR-103a-3p and Mesothelin Improves the Biomarker Performance of Malignant Mesothelioma Diagnosis", Dec. 3, 2014, PLoS One, e114483, http://www.ncbi.nlm.nih.gov/pubmed/25469901
For nearly ten years, Surviving Mesothelioma has brought readers the most important and ground-breaking news on the causes, diagnosis and treatment of mesothelioma. All Surviving Mesothelioma news is gathered and reported directly from the peer-reviewed medical literature. Written for patients and their loved ones, Surviving Mesothelioma news helps families make more informed decisions.