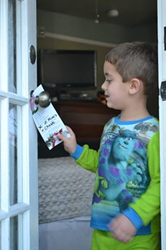 We all know Santa comes only if you're asleep in your own bed and midnight.
St. Augustine, FL (PRWEB) December 15, 2014
Children traveling to a St. Augustine bed and breakfast can rest easy this Christmas, knowing that the owners of the Bayfront Marin House have arranged to have Santa use their inn as an approved distribution point for gifts. The agreement ensures that all good children will still receive a visit from Santa and his elves, even if they are not at home.
"We all know that Santa only comes if you're asleep in your own bed," says inn owner Sandy Wieber. "Our bed and breakfast is child-friendly, and we wanted to make sure that all of the kids staying with us on the holiday didn't have to worry about their gifts being delivered."
Guests spending Christmas at the inn will receive a customizable door tag, which informs Santa that the child is safely asleep, and asks that their gifts be delivered to their room, to the inn's dining room (where they will be waiting for the child at breakfast on Christmas morning), at the child's home, at Grandma's house, or at some other location.
In addition, bed and breakfast team members will be happy to wrap up to five presents for any guests staying at the inn on Christmas eve. "We wanted to look out for the children first," says Wieber, "but we wanted to make things easier for the parents as well. My family is in Pennsylvania, and I know it can be dififcult to take wrapped packages through security. Parents--or Santa--can bring any unwrapped gifts to our front desk, and we'll wrap them and deliver them to the children at breakfast. It's a great way to make a holiday on the road feel like home."
The Bayfront Marin House is an award-winning bed and breakfast in St. Augustine, Florida. It offers its guests luxurious amenities: a hot southern breakfast each morning, two hour happy hour each night, homemade sangria, free wifi, complimentary parking and free use of the inn's bicycles.
Reservations can be made by calling 904.824.4301 or by visiting http://www.bayfrontmarinhouse.com.