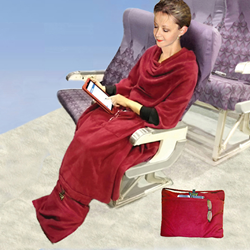 Three-in-one blanket, foot warmer and pillow. Covers you from head to toe in comfort, warmth and privacy.
Fort Lauderdale, FL (PRWEB) December 11, 2014
A new wearable travel blanket is being marketed for frequent flyers and others in need of a convenient way to cope with chilly temperatures. The Yon Smart Blanket is now available direct from the designer or through Amazon and Sky Mall.
Its marketing has much to do with the fact that airlines no longer routinely provide travelers with blankets.
"On airline flights I would always be cold, and found it hard to work or even read comfortably," says Yon O. Chang, chief designer for Yon Design, Inc. "An airline ticket rarely guarantees a warm blanket these days. And when it does the result is often inadequate."
A designer of women's travel wear, she therefore set about creating a wearable blanket that reaches to the head and feet—and is easy to pack and carry.
Designed to slip on and stay in place, the Yon Smart Blanket includes a hood to keep the privacy and block light while resting as well as warm protection for chilly feet. With its own detachable storage pouch and shoulder strap for easy carrying it's easy to travel with and clips to carry-on luggage, Chang notes.
"Whether on the road, at the office, at home or at outdoor events—the Yon Smart Blanket provides warmth and the ability to move freely and in comfort," she says. "Used as a blanket, a foot warmer or simply as a travel pillow it's the best way to ensure personal comfort. It's also an ideal gift for seniors and those confined to wheelchairs."
Made in America of a premium fleece textile it is machine washable and available in six different solid hues and two sizes.
For more information about this or other practical travel clothing ideas visit online at http://www.yonsmartblanket.com/home.html or phone (954) 973-7771.