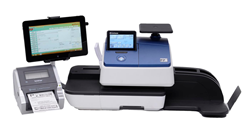 Addison, IL (PRWEB) December 11, 2014
FP Mailing Solutions has just launched its new MailOne 2.0 Ship It, an all-inclusive product bundle that helps small businesses and organizations with all of their mailing and shipping needs.
The bundle features the dynamic PostBase postage meter, a shipping label printer and a Dell Venue 11 Pro Tablet, with optional MailOne 2.0 software. The innovative and comprehensive bundle solution will be available to customers starting December 10, 2014.
"The Dell tablet brings an exciting new element to our shipping solution for small and medium-sized businesses," said Kevin Pietras, director of marketing and product management for FP Mailing Solutions. "No longer are business owners and managers tied down to their offices when they need to mail or ship items. They can do it all from the convenience of their mobile tablet, provided by FP Mailing through this groundbreaking product bundle."
The MailOne 2.0 Ship It bundle centers on the PostBase, a user-friendly postal meter that processes mail at up to 85 pieces per minute and features semi-automatic and automatic letter feeding. The PostBase meter takes letters, prints the postage and outputs the envelopes, bringing a greater level of productivity to mailroom operations. The postage meter works well for small businesses that send moderate amounts of mail or packages.
The Dell Venue 11 Pro tablet offers the same timesaving, cost-efficient functionality of a desktop computer, combined with the convenience of mobile technology. Download the MailOne 2.0 software, which offers significant savings on postage costs with Commercial Base Pricing and electronic certified and return receipts. The software also allows users to save time due to its all-in-one, 4x6" shipping label that combines postage, addresses and confirmation barcodes.
"We are thrilled to officially launch Mail 2.0 Ship It, the first bundle of its kind ever to be launched in our industry," said Pietras. "This flexible bundle allows you to manage your mailing and shipping needs with the ability to multi-task your other business initiatives. We continue to change the way companies run their mailrooms, making their entire operations more efficient and effective."
FP Mailing Solutions is a leading postage meter and mail stream solutions provider offering a wide range of mail center products and services designed to create seamless mailing systems. The company is the fastest-growing mail machine and systems vendor in the U.S., backed by a mission of helping its customers work better, faster and more cost-effectively when it comes to their mailroom processes. To learn more about the MailOne 2.0 Ship It bundle, visit our Ship It page.