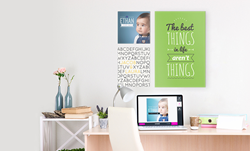 We've created an easy-to-use web app that lets anyone create beautifully designed art with words that truly inspire.
New York, New York (PRWEB) December 11, 2014
Today CanvasPop, the web's leading provider of personalized art and on-demand printing services, unveiled an innovative new photo editing tool called Word Art Maker™. The web application includes a broad range of customization options, including a text editor that allows customers to add their own text to photos. This includes adding names, dates, inspiring quotes, or even marriage vows to any image they upload themselves or one they've chosen from a gallery of curated templates.
"Let's face it, the traditional motivational posters that were found on the walls of offices and dorm rooms in the '90s are stale and unstylish," says CanvasPop Co-founder, Adrian Salamunovic. "We've created an easy-to-use web app that lets anyone create beautifully designed art with words that truly inspire. Something that people will actually want to show off on their walls."
Inspiring quotes and sayings can be found everywhere, especially on sites like Instagram and Pinterest. CanvasPop is taking this trend and allowing people to make beautiful art work that lives on your wall instead.
Word Art Maker™ templates are so rich and professionally laid out, you can create a quality design in just a few minutes. Customers start off with a photo they've taken themselves, or can choose from one of the tool's pre-loaded typeface designs. These curated templates are classified into common categories including weddings, inspirational quotes, geography, office art, etc. The tool makes it easy to add custom or design elements in a unique and personalized way, turning everyday users into designers. The options are limitless.
Pricing starts at $105. Learn more at http://www.canvaspop.com/word-art-maker
About CanvasPop
CanvasPop is the web's most innovative provider of custom, high-quality canvas printing services. CanvasPop empowers photographers and everyday customers to print their images on high quality canvas. CanvasPop allows anyone to print any image, including Facebook, Instagram and iPhone pictures, at virtually any size regardless of the original resolution of the image. CanvasPop's goal is to provide both consumers and professionals with a platform to print any image on canvas. CanvasPop has printing and distribution facilities in the United States and Canada. For more information please visit http://www.canvaspop.com.
About WorkshopX Inc.
WorkshopX is a company that invests in, builds and launches great technology businesses. Companies include PopKey, CanvasPop, Crated, DNA 11. Learn more at http://www.workshopx.com.