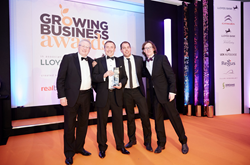 "We'd like to thank our customers for helping us continue this growth which will allow us to save more people money on their energy bills and continue to disrupt this market for the better." - Darren Braham, Founder and CFO, First Utility
(PRWEB UK) 11 December 2014
It is the largest company to feature in the ranking this year and the only gas and electricity supplier to appear four years in a row in the listing's 18-year history.
Over the last year and a half, First Utility's customer base has increased from 190,000 to 675,000 customers today, as consumers respond to its low-priced energy tariffs and challenge laid down to the Big Six energy giants. Recently, it became the first independent UK energy company to break through the 1m accounts milestone.
This growth has been driven by First Utility's mission to help consumers spend less on energy. Since its launch in 2008, First Utility has helped customers save over a collective £100m through consistently offering some of the cheapest energy prices, helping consumers use less energy through innovation and technology, and continuing to campaign for positive change in the UK energy industry.
Growing Business of the Year
Last month, First Utility was named Growing Business of the Year (larger company category with £50m+ turnover) at the prestigious Growing Business Awards 2014. The award recognises First Utility's high growth, market leadership and positive disruption of the UK energy industry.
The judges commended First Utility's undeniable positive impact on the UK energy industry: "First Utility is potentially the fastest-growing £1bn revenue company in the UK in the next 12 months. The business's disruptive nature is as commendable as its incredible growth figures, which have seen revenues double year on year for the past four years."
Darren Braham, Founder and CFO, First Utility, says:
"Our goal to save consumers money and positively disrupt the energy industry is resonating with customers who are fed up of the old guard. We'd like to thank our customers for helping us continue this growth which will allow us to save more people money on their energy bills and continue to disrupt this market for the better."