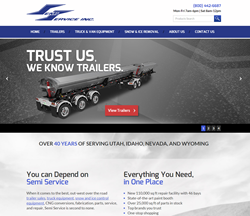 Salt Lake City, Utah (PRWEB) December 12, 2014
Semi Service Inc., is pleased to announce the launch of the company's freshly re-designed website, http://www.semiservice.com. With locations in Salt Lake City and North Salt Lake City, Utah, Semi Service distributes products for and services semi-trailers, trucks, vans, and plows. The company has more than 40 years of experience in the industry and has grown to serve Utah, Idaho, Nevada, and Wyoming.
Custom built from the ground-up by Artonic, Semi Service's new website is designed with customers' needs in mind. The design is clean, organized and cohesive with the overall brand. The website is full of helpful information for fleet managers, truck drivers, and anyone who is in need of truck fabrication or repair. Semi Service's website is easy to navigate so that customers can find exactly what they're looking for in the fewest number of clicks.
Specifically, the new website features a full inventory of products so that customers can know exactly what's available at all times. Semi Service carries products and parts from the most trusted brands in the industry. The website provides complete descriptions to help customers make the most informed decisions about their purchases.
In addition to the new product inventory, the website includes comprehensive information about the services available at both locations and detailed contact information. The blog will expand upon the products and services available through Semi Service, the latest industry trends, and helpful tips for fleet managers and truck drivers.
For more information about Semi Service, visit the company's new website.