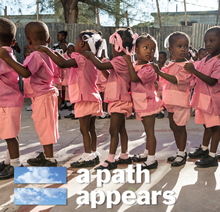 New York, NY (PRWEB) December 16, 2014
From Nicholas Kristof and Sheryl WuDunn, the team that brought you the groundbreaking "Half the Sky: Turning Oppression into Opportunity for Women Worldwide," comes a special Community Cinema screening of Independent Lens' "A Path Appears" by Maro Chermayeff.
This new film, screened here prior to its PBS air date, follows intrepid reporters Kristof and WuDunn, and celebrity activists Malin Akerman, Mia Farrow, Ronan Farrow, Jennifer Garner, Regina Hall, Ashley Judd, Blake Lively, Eva Longoria, and Alfre Woodard on a journey across the country, and across the globe, to reveal the incredible adversity faced every day by millions of women and girls, while also presenting glimpses of hope and change. Through heartrending, inspiring storytelling, "A Path Appears" drives home the universality of gender inequality and the roots of vulnerability. The series will lead viewers to a deeper understanding of these critical issues and the proven methods of bringing about change.
As part of the highly regarded Women and Girls Lead Initiative, Episode 2 will be previewed at The Anne Frank Center. "Entitled Breaking the Cycle of Poverty," the film focuses on poverty and early childhood intervention in West Virginia; teen pregnancy in Colombia; and forced child labor in Haiti. The film will be introduced by Sarah Dennis-Browne from the ITVS, promoters of the Independent Lens documentary series.
The Anne Frank Center USA's Human Rights film series explores the impact of intolerance and discrimination on a wide range of groups in contemporary film.
Event Information:
The Anne Frank Center USA
44 Park Place
New York, NY 10007
212-431-7993
info(at)annefrank(dot)com
The film is free, but reservations are recommended. RSVP at http://www.brownpapertickets.com/event/1029606
About The Anne Frank Center USA
The Anne Frank Center USA, a partner organization of The Anne Frank House, uses the diary and spirit of Anne Frank as unique tools to advance her legacy, to educate young people and communities about the consequences of intolerance, racism and discrimination, and to inspire the next generation to build a world based on mutual respect.
About Community Cinema
Community Cinema is a national civic engagement initiative featuring free screenings of films from the Emmy Award-winning PBS series Independent Lens. Presented by Independent Television Service (ITVS) in partnership with local public television stations and community organizations, these in-person events and online social screenings bring community members together to learn, discuss, and get involved in key social issues of our time. For a complete lineup and more information about the Community Cinema series visit: http://communitycinema.org.
About Independent Lens
Independent Lens is an Emmy® Award-winning weekly series airing on PBS. The acclaimed series features documentaries united by the creative freedom, artistic achievement, and unflinching visions of independent filmmakers. Presented by Independent Television Service, the series is funded by the Corporation for Public Broadcasting, a private corporation funded by the American people, with additional funding from PBS and the John D. and Catherine T. MacArthur Foundation. For more visit http://pbs.org/independentlens. Join the conversation at facebook.com/independentlens and @IndependentLens.