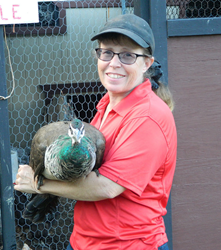 Her favorite customers are the young people from the 4-H and FFA youth who visit her farm.
(PRWEB) December 11, 2014
During this Christmas season of giving, a family will be providing a new home to some adorable Rhode Island Red chicks, thanks to Lisa Pedro of the aptly named Fort Christmas Farms. Pedro runs a National Poultry Improvement Plan (NPIP) certified hobby farm in Christmas, FL. She breeds and sells a variety of chickens, guineas, quail and ducks from her five and a half acre small business.
Most of Pedro's sales come in the spring, but this customer called for help in planning a backyard poultry set-up as a holiday surprise her children – ages 6 and 8. "The mother was excited about being ready on Christmas morning and was eager to do it in a way that would assure biosecurity for both the birds and her family," she said.
"She wanted to be sure the breed of chicks she chose would be hatched in time for Christmas," said Pedro with a smile. "She also asked for advice on what she would need for a healthy and safe home for the birds."
Pedro works with her customers to develop a list of necessary supplies, as well as a list of do's and don'ts, that will help her family maintain their new backyard flock. A lot of this helpful information is available at the USDA's website http://www.healthybirds.aphis.usda.gov, Pedro noted. In 2001, the Pedro family retired to Florida and in 2010, for extra money, Pedro expanded her hobby of raising backyard poultry into a business.
The NPIP Certification was an important first step in establishing her business. The NPIP is a national voluntary cooperative federal/state/industry program through which disease control and prevention strategies are used to improve the poultry and poultry products produced by the participants. The greatest benefit to participating members is that poultry and poultry products produced under these provisions are allowed to be shipped interstate and internationally with few restrictions.
Pedro currently has more than 200 birds of all types in a wide variety of breeds. In addition to Rhode Island Red and Easter Egg chickens, she offers Silkies, Appenzellers, and Porcelain Belgian Bearded d'Uccles, among many others. She also sells White Quail and Texas A&M Quail as well as a variety of ducks and geese.
"I sell breeder eggs and everything I can hatch," she said. She emphasizes that the eggs she sells are not for consumption, but for breeding purposes. Her favorite customers are the young people from the 4-H and FFA youth who visit her farm.
More pictures are available by request.
-30-
Media representatives may contact Joelle Hayden at joelle.r.hayden@aphis.usda.gov (301) 851-4040 or Pam Goldstein at pgoldstein(at)diversitymc(dot)com 973-377-0300, Ext. 14