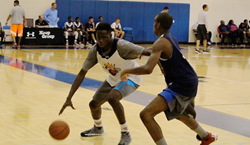 Neptune, NJ (PRWEB) December 28, 2014
Hoop Group, the leading establishment for advanced basketball instruction, has recently announced nine new Top 100 clinic dates scheduled during the spring months. The clinics provide high school basketball players with the opportunity to compete against top players from other schools as well as gain visibility from college coaches. The Hoop Group Elite Top 100s helps players stand out from the crowd in preparation for the recruiting process, as well as improve performance during the regular school season.
When the high school season ends, recruitment does not stop. Top 100 basketball clinics give players the chance to continue improving their skills for the game while maximizing exposure to college coaches. "Every player in attendance gets the chance to play in two games in front of Division 2 and 3 coaches. Spring is a huge time in a player's recruitment process. Hoop Group Elite helps you be seen," said Bryan Weber, Director of Hoop Group Elite.
In order to continue progressing their skills, the players practice playing against other highly-competitive players from the area. The college-level instruction allows players to sharpen the fundamentals of the game, while competing against other top performers allows the players the chance to square off against top level competition.
During the day-long event, each player has the chance to receive a personal evaluation from the National Recruiting Report, which highlights a player's strengths and gives them an idea of where they can improve. In addition to competing against the best high school players in the region, participants rotate through instructional stations, led by college coaches, where they focus on form and technique to help improve their performance.
Hoop Group Elite's Top 100 clinic moreover serves as a platform for players to establish themselves as a college-level player and position themselves for recruitment by building rapport with college coaches across the country. Hoop Group Elite events attracted over 900 college coaches from Division I, II, and III schools in 2013 and gained coverage by some of the top media outlets and recruiting services for the sport, the clinics offer players in high school the best chance at advancing to the next level.
The newly announced clinics are scheduled on select weekend dates from March 15th through May 8th. The events are set to take place in diverse locations along the east coast, including Philadelphia, New York, Pittsburgh, Baltimore, New England, and Northern Virginia. Hoop Group Elite is also proud to announce the first ever Ohio Top 100, coming this spring. Basketball players in grades 9 through 12 are welcome to attend one of the Spring 2014 Top 100's by registering on Hoop Group's website.
To learn more about Hoop Group or register for upcoming events, visit http://www.hoopgroup.com, or call 732-502-2255.
About Hoop Group
Hoop Group is the worldwide leader in basketball instruction, offering premier basketball camps since the summer of 1963. Having touched the lives of over one million young men and women, Hoop Group has evolved from simply offering summer basketball camps, to hosting tournaments and competitions, skills camps, and basketball facilities to the basketball community.