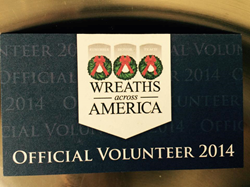 "It's important even during the rush of the holiday season to remember those who have sacrificed for our country in any way we can. We are happy that we can give our time to such a worthy cause as members of our local community
Chantilly, VA (PRWEB) December 15, 2014
The Community Relations team at Moss Building & Design volunteered at the wreath-laying effort at Arlington National Cemetery on December 13th 2014. This year marked the 150th anniversary of the cemetery site.
In honor of the anniversary and as part of a longtime goal, Wreaths Across America hoped to lay a wreath on every grave site this year and with some 50,000 they were successful.
The wreaths are an important facet of Arlington Cemetery. Each wreath as a whole symbolizes honor, respect, and victory. The red bow at the top signifies the great sacrifice of each veteran.
This year's theme was "Remember, Honor and Teach—Don't Say I Should Have, Say I Did."
The Moss team is always looking for ways to give back to their local community and were honored to take part in an event that recognizes the nation's greatest heroes.
"It's important even during the rush of the holiday season to remember those who have sacrificed for our country in any way we can. We are happy that we can give our time to such a worthy cause as members of our local community," said Jeannine Miller, Community Relations Manager.
For more information about the organization, visit the Wreaths Across America web page and on the Arlington Wreath's Facebook pages at http://www.facebook.com/ArlingtonWreaths and http://www.facebook.com/WAAHQ.
About Moss Building and Design and Moss Home Services:
For home improvement in Northern Virginia, you can count on Moss Building & Design and Moss Home Services. Moss is an award-winning residential remodeling and home services company located in Chantilly, Virginia. Since 2001, they have established a reputation for excellence in remodeling additions, kitchens, bathrooms and basements and performing home services throughout Northern Virginia. Their customers see them as a trusted partner and they are very proud of their exceptional 80% repeat customer and referral rates. Moss Building and Design has won consumer awards such as Angie's List Super Service Awards for the last four years and has an A+ rating from the Better Business Bureau, as well as many other industry building and design awards.