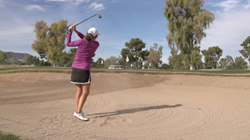 (PRWEB) December 25, 2014
There are many ways to vastly improve the golf game; sometimes it is a great tip for a golfer's stance or a swing or by just changing or adding one particular club in the bag. The 52 degree golf wedge also known as the gap wedge fills in that large space between wedges that most golfer's have. There are many wedge reviews to read on how the 52 degree golf wedge may be just what the player's golf game needs.
Knowing the degrees of all clubs is important, typically a 4 degree spacing between clubs is ideal because that should give you a 15 yards more or less between clubs on full shots. Most players have a pitching wedge and a sand wedge in the bag. Traditionally that leaves 8 degrees between those two clubs which can amount to a 30 yard spread on full shots. The short game sometimes is measured in feet so club choice and correct yardage is a must in order to score well. This is where the 52 degree golf wedge splits that spacing perfectly on full shots. There are many types of golf wedges available from the traditional to the hybrids like the Black Magic Wedges.
Everyone that plays this game has experienced a situation where they have a shot to the green that is too short for a pitching wedge and is too long for a sand wedge. This means either chocking down on the pitching wedge which some players are not comfortable with or trying to swing too hard with a sand wedge. A great solution is a 52 degree golf wedge.
The Black Magic 52 degree gap wedge rates very high with so many players not only because it spits the difference on full shots between the pitching wedge and sand wedge but also they have found the club to be so versatile around the green. Players are amazed how easy bunker shots and flop shots have become with this new hybrid shankless design wedge. It truly allows players to have the confidence to get very creative with the short game which is critical to shooting lower scores.
There are many reasons why more and more players are putting this particular golf wedge in their bag. The club is patented and Conforms to USGA Rules and it only makes sense to take advantage of the new technology that is available today.
ABOUT:
Black Magic Golf invented a hybrid wedge known as the HWedge with patented face forward design that Conforms to USGA Rules. The large sweet spot helps to assist with off center shots. Black Magic Hybrid Wedges help golf enthusiasts find new precision with high, soft shots as they make their way onto the green. Black Magic Wedges come in 37⁰, 48⁰, 52⁰, 56⁰, 60⁰ Right Hand Lofts and 56⁰ Left Hand Loft.
CONTACT:
Brad Cochran, General Manager
Black Magic Golf, 10850 Dover Street, Suite 500, Westminster, CO 80020 or Call Toll Free 877-799-6099.
http://www.blackmagicgolf.com