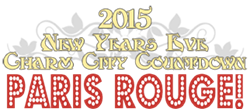 I think on new years eve people really want to two things; something big and something different. We plan to give them both.
Timonium, Maryland (PRWEB) December 16, 2014
This New Year's Eve, the Charm City Countdown, Maryland's largest all-inclusive New Year's charity gala, returns for its 7th year to the North Baltimore Plaza Hotel. Proceeds from this event benefit Maryland based non-profit Caring Communities, which aids the disabled, along with their families and caretakers, through support, education, and training.
"This is the only fundraiser we do for the charity all year so we like to do it big," says Mona Freedman, Executive Director for the charity. For the second year in a row they are doing a special themed event and upwards of 2,000 people are expected to attend.
"Last year we did a Great Gatsby theme and people really got into it. For New Year's Eve 2015 we're doing 'Paris Cabaret' and tickets are selling even faster," says Rob Kowalski, one of the partners helping to promote the event.
Charm City Countdown boasts multiple areas to party in, with a wide variety of entertainment to amuse and excite: DJs, a live band, casino games, comedy, karaoke, can-can dancers, sideshow and burlesque acts, face and body painting, laser light show, a virtual graffiti wall, and more.
"It's going to be a circus," said Kowalski. "I think on New Year's Eve people really want to two things; something big and something different. We plan to give them both."
The ticket price covers everything: dinner, all-night drinks, dancing, and more. VIP tickets are available with upgraded menu, ultra premium bar and exclusive entertainment options
Partygoers are encouraged to create and dress as their own eccentric characters for that period, or just wear their favorite formal or chic casual outfits. No T-shirts, jeans, or sneakers are allowed.
About our sponsor: Caring Communities is a small, yet growing, non-profit 501(c)3 organization based in Maryland, which began in February of 1997 to address the need for comprehensive respite care services and the lack of trained respite care providers. Their mission is to offer disability-related training, education, publications, and events for the benefit of children and adults with disabilities, their families and caregivers, as well as healthcare and education professionals. Their efforts will enhance the quality of life regardless of the nature or severity of the disability; empower individuals with disabilities to achieve economic self-sufficiency and independent living and; promote inclusion to enjoy full participation in society.
Your sponsorship, donations or participation in these events will assist us in continuing to produce Expos, publish magazines and plan other activities that promote the mission of Caring Communities.
Please be advised we are not associated with Moulin Rouge of Paris, France.