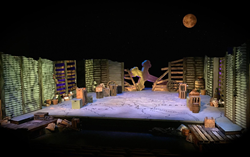 British and German soldiers realized that they had much in common, despite their differences.
Highland Heights, KY (PRWEB) December 12, 2014
Soldier's Christmas, a new play by award-winning playwright Philip Paradis, commemorates the 1914 Christmas Truce, in which British and German soldiers along the Western Front stopped fighting and celebrated the holiday together. The play will have its world premiere at Northern Kentucky University's Corbett Theatre, December 12-21.
"I heard about the Christmas Truce from one of my uncles, when I was a boy," said Paradis, who began researching the subject more than 10 years ago. "It was an incredible story that stayed with me. These soldiers were sworn enemies, but they stopped killing each other long enough to celebrate Christmas."
Though inspired by true events, Soldier's Christmas is a fictionalized account of the Christmas Truce. The characters are composites of soldiers' loved ones and the thousands of troops who took part in the celebration along the Western Front.
Soldier's Christmas was a finalist in the Kentucky Theatre Association Roots of the Bluegrass New Play Contest. Paradis received a 2014 Kentucky New Play Series Award for his play SUNNY SIDE and his play Footprints of the Polar Bear took top honors in New Edgecliff Theatre's Cincinnati Director's Competition. Of the dozens of plays he's written, Paradis considers Soldier's Christmas his most important work.
"In the midst of war, British and German soldiers realized that they had much in common, despite their differences," he said. "I think that's what resonates here and why this is such an unforgettable story. "
A production of the Actors & Playwrights Collaborative and New Edgecliff Theatre in Cincinnati, Soldier's Christmas is directed by Robert Allen. The cast includes Carter Bratton, Jared Earland, Aaron Epstein, Michael Gettinger, Alexa Glaser, Blair Godshall, Matt Krieg, Robert Macke, Jack Manion, Patrick McWilliams, Jeffrey K. Miller, Emily Mohler, Torie Pate, and Quinn Stiefbold.
Soldier's Christmas will be presented at the Corbett Theatre at Northern Kentucky University, Highland Heights, Kentucky, on December 12, 13, 14, 19, 20 and 21. Advance tickets are $22 for adults, $20 for seniors and $18 for students. For more information, visit http://www.Cincyticket.com or call 1-888-428-7311. More information about the play is available at http://www.soldierschristmas.net
# # #