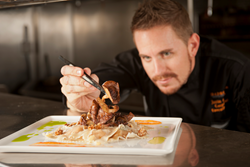 "Home cooks will appreciate how quickly this special holiday recipe comes together," says Chef Justin Adrian.
Denver, CO (PRWEB) December 11, 2014
Hodson's, a Colorado restaurant with two locations – in downtown Denver and at Streets of SouthGlenn in Centennial, Colo. – has relaunched its menu in time for the holidays. The new menu emphasizes sophisticated natural and locally sourced dishes with a fresh Asian take on the restaurant's American contemporary fare, announced owner Dan Shipp. To celebrate this opportunity to bring special new choices to their guests, Hodson's Executive Chef Justin Adrian, who has put the focus on a smaller selection of innovative and memorable dishes that complement the restaurants' relaxed and friendly upscale dining experience, is sharing a recipe for one of the favorites from the new menu. The Dueling Ravioli, popular with Hodson's guests, makes an ideal recipe for home cooks to prepare for the holidays.
The melt-in-your mouth recipe which combines butternut squash ravioli and yam ravioli on a single plate is perfect for the holidays, offering a fresh option for the holiday season that draws on readily available and budget-friendly seasonal produce. "Home cooks will appreciate how quickly this special holiday recipe comes together," says Chef Justin Adrian. "And despite a relatively short ingredients list, the savory velouté sauce and sautéed wild mushrooms elevate the dish while wonton skins as a pasta alternative keep the preparation easy for at-home cooking." And while the recipe includes chicken stock for a richer sauce, those who prefer a true vegetarian entrée just need to swap in vegetable stock for the chicken.
Chef Justin Adrian has recently appeared on TV news programs on Channel 7 and Channel 9 in the metro area demonstrating the dish and offering cooking tips for holiday kitchens. The chef's Dueling Ravioli Recipe for home cooks is available here: http://hodsonsbarandgrillsouthglenn.com/chef-justin-adrians-dueling-ravioli.
The Dueling Ravioli – "where synergy between yams and butternut squash is created by a savory velouté sauce topped with wild mushrooms and candied pecans" – is a signature dish on the new menu being offered at both the Colorado Hodson's locations. While the menu retains a few favorites like the rotisserie chicken salad, dishes will feature locally sourced Colorado ingredients and local and hormone-free meats. New menu items include Dueling Ahi Tuna featuring both tuna tartare and seared ahi tuna; Colorado Rack of Lamb with a roasted beet puree and a sweet soy beurre blanc; Seared Scallops over saffron risotto cakes topped with a basil aioli and yuzu caviar; and Surf & Turf sushi roll with lobster, Kobe carpaccio and a balsamic reduction topped with a chipotle aioli.
New menu dessert specialties at Hodson's include a baked-to-order Peach Cobbler made with Colorado-grown Palisade peaches. A new Deconstructed Black Forest Cake is served with a shot of chilled bing cherry liqueur.
Denver's restaurant scene is exploding with many excellent dining options, explains Hodson's owner Dan Shipp about the decision to relaunch the menu. "The intense competition motivated us to reexamine our menu – and create a dining experience that we feel is different from other restaurants in Denver and certain to provide diners with a memorable meal."
The only upscale dining experience in the new Streets at SouthGlenn, Hodson's is located at 6851 S. Gaylord St. in Centennial, Colo. In downtown Denver, the second Hodson's is located at 999 18th St. in Denver Place, across the street from the Ritz-Carlton. In addition to its relaunched menu, the upbeat stylish eatery also offers an outstanding wine list, local microbrews and a selection of hand-crafted specialty cocktails. Interiors combine rich leather seating, Italian contemporary glass accents, visually distinctive bars, outdoor contemporary sofas around a patio firepit and expansive windows on the lively street scene at both locales.
The new menu was created by Justin Adrian, award-winning executive chef for all of the Roadhouse Hospitality restaurants including both Hodson's locations, with the mission of turning fresh, local ingredients into flavors that will surpass guest expectations. The chef began working in kitchens at age 14 as line cook, banquet chef, sous chef and, eventually, executive chef of Jordan's in Denver by age 21. He has trained with a number of notable chefs including Chef Michael Scott, Chef Richard Bailey and Chef Alex Chen. Passionate about charity work, he has participated in numerous charity/chef events and says about Roadhouse/Hodson's: "It is one of the reasons I love this company; we are always working to help charities and nonprofits."
Hodson's in Denver and at Streets at SouthGlenn is open seven days a week. For complete hours and reservations for the Denver restaurant, visit hodsonsbarandgrilldenver.com or call 303.996.2300. For complete hours and reservations for the Streets at SouthGlenn location, visit hodsonsbarandgrillsouthglenn.com or call 720.457.3852.
About Hodson's
Hodson's is part of Roadhouse Hospitality, which owns and manages 15 restaurants in the greater Denver area and Colorado mountain towns and resorts, including the two Hodson's locations, four locations of the Dusty Boot Steakhouse and Saloon, Reiver's Bar and Grill in Denver's popular Wash Park neighborhood and Spanky's Roadhouse near the University of Denver, among others.
Contact:
Darla Worden, WordenGroup Public Relations, darla(at)wordenpr(dot)com 303.777.7667