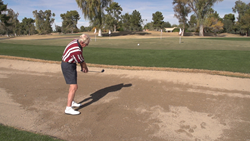 (PRWEB) December 24, 2014
The game of golf presents many unknown challenges especially in the short game where a top 60 degree golf wedge can turn challenges into rewards.
Golfer's watch the best players in the world routinely recover from disastrous approach shots to the green by using wedges. The players are sure to find a lob wedge in most of the best player's bags. Traditionally a lob wedge is 60 degrees and the top 60 degree golf wedge is strictly up to individual preference.
Let's take a common scenario that every player faces more times than not where golfer's have hit a great drive and the approach shot falls short or went over the back of the green. Now the golfer is faced with a 20 to 30 foot shot to the pin but the green is well above the lie. This is where laying the face open on a sand wedge or lob wedge is a good way to get very fast lift in a short distance but the golfer takes the chance of shanking a shot. There are new types of 60 degree wedges that offer an alternative with some of the hybrid wedges like Black Magic top 60 degree golf wedge that has a low center of gravity that just naturally gets the ball up faster for those short shots.
Black Magic Golf has an all new patented design set of hybrid wedges that are shankless and Conforms to USGA Rules for top level competition. Their best lob wedge rates very high with players from the amateur level to the pros. There are many retailers that offer big golf discounts on wedges but if the golfer is tired of the same old strategy for all those difficult short shots that we all have in a round of golf and are looking for a new solution check out Black Magic's top 60 degree golf wedge by going to their online store where you can watch the many short videos to see how their line of wedges can improve your short game.
Black Magic Golf wants to be known for providing players of all levels a new solution to the biggest part of the game, the short game.
About:
Black Magic Golf invented a hybrid wedge known as the HWedge with their patented face forward design that Conforms to USGA Rules. The large sweet spot helps to assist with off center shots. Black Magic hybrid wedges help golf enthusiasts find new precision with high, soft shots as they make their way onto the green. Black Magic wedges comes in 37⁰, 48⁰, 52⁰, 56⁰, 60⁰ Right Hand Lofts and 56⁰, Left Hand Loft.
Contact:
Brad Cochran, General Manager
Black Magic Golf, 10850 Dover Street, Suite 500, Westminster, CO 80020 or Call Toll Free 877-799-6099.
http://www.blackmagicwedge.com