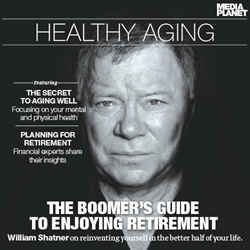 Follow your bliss. Life is very short and it's the journey.
(PRWEB) December 11, 2014
The print component of Healthy Aging is distributed within today's Home and Business subscription of the Toronto Star, with a circulation of approximately 230,433 copies and an estimated readership of 622,169. The digital component is distributed nationally through a vast social media strategy and across a network of top news sites and partner outlets. To explore the digital version of the campaign, click here.
The publication features Canadian icon William Shatner in an exclusive interview about the Kickstarter for his upcoming book, "Catch Me Up". He reveals that reinventing yourself after 50 doesn't have to be scary: "I say reinvent yourself as many times as you can. Sooner or later, you'll have a hit. Follow your bliss. Life is very short and it's the journey."
Moses Znaimer, Founder of Zoomer Media and President of CARP, (co-founder and former head of Citytv), shares his thoughts on the art of aging: "The more concerned you are with how old you are, the quicker you get old."
Special thanks to Johnson Insurance and Retired Teachers of Ontario, among others, for their support and contributions in the making of this campaign.
About Mediaplanet
Mediaplanet is the leading independent publisher of content-marketing campaigns covering a variety of topics and industries. We turn consumer interest into action by providing readers with motivational editorial, pairing it with relevant advertisers, and distributing it within top newspapers and online platforms around the world.
Press Contact:
Carlo Ammendolia
carlo(dot)ammendolia(at)mediaplanet(dot)com
416-583-2211