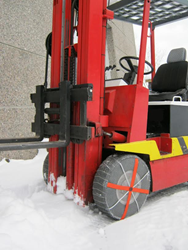 Denver, CO (PRWEB) December 10, 2014
AutoSock AS, the provider of an Alternative Traction Device (ATD) for passenger and commercial vehicles, today announced that a version of its patented textile tire cover is now available for use on forklifts.
"Most forklifts have smooth tires and easily lose traction when operating outside and on loading docks covered with ice and light snow," said Chuck McGee, president of McGee Company, the U.S. based AutoSock distributor. "AutoSock for forklifts uses high-performance fibers and a specially designed surface pattern to maximize friction on snow and ice covered surfaces. By making the total contact area exposed to dry friction as large as possible, the ATD enhances traction and improves safety in loading dock and warehouse operations."
Offered in eight common tire sizes, AutoSock for forklifts is safe, easy to put on, and does not damage loading dock or yard surfaces because its material is softer than metal chains. The ATD can be installed in less than five minutes per axle and weighs less than 5 lbs per pair.
AutoSock is also available for passenger cars and commercial vehicles or combinations over 10,000 lbs GVWR with five or fewer axles, including Class 3-8 medium- and heavy-duty trucks with tire sizes up to wide base singles.
About AutoSock AS
AutoSock AS is a Norwegian research-based company founded in 1998. In 2001 AutoSock was approved by TÜV, which is regarded as a world-leading test and certification association, and is now approved globally in various jurisdictions and by several truck and car manufacturers. Through 2012, over two million pairs of AutoSock were in use worldwide. For more information, visit http://www.autosock.us.
Media Contact:
Susan Fall
LaunchIt Public Relations
858-490-1050
susan(at)launchitpr(dot)com
http://www.LaunchItPR.com