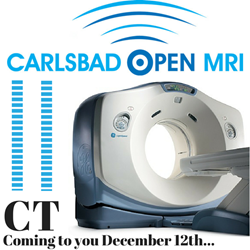 Carlsbad, NM (PRWEB) December 11, 2014
Beginning December 12th, patients in the Carlsbad, NM area will be able to go to Carlsbad Open MRI for CT scans. For years the center has exclusively offered MRI and Ultrasound for patients, but this December they're pleased to add CT services to their list of procedures.
Carlsbad's new CT scanner, a GE LightSpeed RT16, will be up and running by Friday the 12th. Patients will be offered 100% flexible scheduling and a cash-pay price special of $400, which is approximately $200 lower than the average cost for a CT scan in the area. Patients and referring physicians will also have access to same day appointments and STAT procedures.
Computer Tomography (CT), is a medical imaging method similar to an MRI that uses x-rays to take images of different parts of the body. CT scans are particularly useful for detecting cancer, scrutinizing severe injuries or rapid symptoms, diagnosing spinal injuries, and examining soft tissue and small bones.
The GE LightSpeed RT16 is a multi-slice scanner with a wide-bore that allows Restorative Therapy stimulation for patients. The LightSpeed RT16 is considered to be one of the world's leading CT scanners for cancer care, and can take high resolution, high quality 2D and 3D images. The addition of the CT scanner to Carlsbad Open MRI will provide patients in the area with a low-priced, high quality option for CT screenings.
Open MRI of Carlsbad is a local business that has been offering medical imaging services to patients in the New Mexico area for over nine years. As an independently owned organization, Carlsbad Open MRI strives to offer patients top-notch care while prioritizing patient experience and low rates. For more information, visit http://carlsbadopenmri.com/.