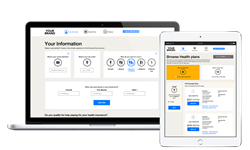 Square is a consumer friendly shopping solution in an industry often misunderstood by consumers
New York, NY (PRWEB) December 11, 2014
Zipari, Inc., a New York startup focused on building technology products for the health insurance industry, announced the release of its online shopping solution, Square, which enables health insurance companies to provide a quick and easy shopping experience for its customers. With Square, health plans can provide a private exchange shopping experience, allowing consumers to purchase and enroll in benefits such as health, dental and vision insurance directly on the insurer's website.
"Square is a consumer friendly shopping solution in an industry often misunderstood by consumers," said Mark Nathan, CEO of Zipari. "Our Square product guides the customer through selecting benefits and completing the enrollment process with a minimum number of clicks."
Zipari's Square adds important new features to the previous Zipari shopping solution, and now has the capability to be rapidly configured and deployed for new health plans. Square also offers analytics to help health plans better meet consumer demands and be responsive to their needs.
HEALTH REPUBLIC OF NEW JERSEY USES ZIPARI'S SQUARE
Health Republic Insurance of New Jersey, the Garden State's only non-profit, healthcare CO-OP, was the first company to use Zipari's Square, and the product has enabled customers to easily navigate the process of enrolling in health insurance during the busy 2015 Open Enrollment period.
"The Square product has a streamlined look and feel, and is highly customizable, allowing us to maintain the Health Republic Insurance of New Jersey brand," said Greg Muller, chief information officer at HRINJ. "Our customers are having an excellent user experience shopping for both health and vision insurance and, as an added bonus, it easily integrates with our third- party vendor systems."
The Square product is available immediately, and can be configured quickly to provide health plans with the best possible shopping experience for consumers to purchase multiple benefit types, such as health, vision and dental. Benefits can be managed via an inventory manager system, and content can be easily branded and modified to ensure brand consistency. Zipari's consumer modeling tool recommends sales and operational actions to provide optimal shopping performance. For more information about the Square product, visit http://www.zipari.com
ABOUT HEALTH REPUBLIC OF NEW JERSEY
Based in Newark, NJ, Health Republic Insurance of New Jersey is a non-profit, Consumer Operated and Oriented Plan (CO-OP) that provides cost-effective and comprehensive healthcare coverage to individuals and small employer groups in New Jersey. HRINJ is a mission-and health-based organization built to serve the best interests of its members. With no private shareholders, surplus revenues go towards ensuring individuals and small businesses served get the healthcare they need while always providing ample or increased services, and reducing premiums when possible.
HRINJ is one of 23 CO-OPs in the U.S. that resulted from the Affordable Care Act when it became law. The company provides a voice for individuals and businesses who want to take part in their health and the healthcare process. The majority of its board of directors will be members of the plan, offering opportunities for input about the best way for HRINJ to deliver healthcare and attain optimal outcomes for members.
ABOUT ZIPARI
Based in the DUMBO neighborhood of Brooklyn, New York, Zipari Inc. is a startup focused on building technology products designed to simplify and improve the interactions between health plans and their customers. Zipari's online solutions include shopping, member portal, provider lookup and marketing websites. Zipari's infrastructure provides connectivity to TPAs for billing, enrollments and claims. All of Zipari's products include analytics to optimize consumer experience and improve customer satisfaction. Zipari's investor is Vertical Venture Partners, a venture capital firm focused on investments in companies that target specific vertical markets. For more information about Zipari, please visit http://www.zipari.com.