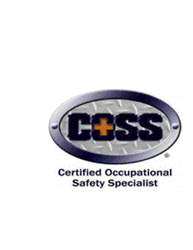 The COSS® curriculum is designed to provide the essentials every safety practitioner needs, and the tools to achieve the desired safety results upon returning to work on Monday.
Gibbstown, NJ (PRWEB) December 16, 2014
During the week of January 26th through January 30th, the Delaware Valley Safety Council (DVSC) will be conducting another Certified Occupational Safety Specialist® (COSS) training and certification class at its Sewell, NJ facility located at the Rowan College at Gloucester County Continuing Education Center. At the end of October, DVSC completed another successful COSS training class at DVSC-NJ in Sewell that graduated five new COSS certified students.
The COSS program is unique. Not only do students learn how to read and understand the OSHA 1910 and 1926 Code of Federal Regulations, which can help a company avoid OSHA citations costing millions of dollars, more importantly, students learn how to work safely on a job site and to teach fellow employees and coworkers how to eliminate the risk of fatalities and near misses.
Almost 85% of COSS graduates responding to a survey indicated that since taking COSS, their company's injury rate and/or OSHA recordables have decreased by 25%, others attesting to as much as a 100% decrease!
The class also addresses the psychology of safety, the true cost of an accident, hazard recognition, how to start a health and safety program, behavior-based safety, and much more.
Upon successfully completing the five-day, forty-hour program, students obtain not only the national Certified Occupied Safety Specialist designation, but also the OSHA 10-Hour Card of Completion in Construction, and the OSHA 10-Hour Card of Completion in General Industry. The Department of Labor (DOL) issues both OSHA 10-Hour cards.
The American Council of Construction Education (ACCE) and the American Association of Safety Councils (AASC) recognize COSS. COSS is the only non-degree program to receive this national endorsement. And COSS has been established as a mandatory course for students in the Construction Management program at Louisiana State University.
The program consists of 40 hours of hands-on, face-to-face learning, delivered by Don Callahan, DVSC's COSS-certified, Authorized OSHA Outreach Trainer in both Construction and General Industry. Case studies and workshops are used extensively to bring learning objectives into focus. Guest speakers from areas such as OSHA and other governmental agencies contribute to enhance the learning experience. Student presentations, daily quizzes, practical reviews, and a comprehensive final exam allow for the demonstration of competencies.
The only prerequisite for the COSS program is a high school diploma or equivalent. Each class can have a mix of non-experienced, first-time safety personnel as well as safety professionals who have been in the safety field for over 20 years. Regardless of the number of years experience one might have in safety, everyone leaves the COSS class with an expanded wealth of knowledge.
To learn more or to register, visit the Delaware Valley Safety Council website, http://www.dvsconline.org, email DVSC Administration at dvscadministration(at)comcast(dot)net, or phone DVSC Executive Director Brian McClafferty at 302-736-1986.