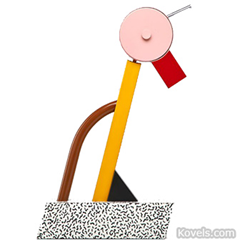 (PRWEB) December 11, 2014
Kovels' Top 20 list of antiques and collectibles is based on the results of hundreds of thousands of searches that took place on Kovels.com. During November 2014, collectors were searching for prices of: 1) Fenton, 2) Occupied Japan, 3) Stoves, 4) Coca-Cola, 5) Furniture, 6) Dinnerware, 7) Depression Glass, 8) Wedgwood, 9) Jewelry, 10) Delft, 11) Capo-Di-Monte, 12) Lamps, 13) Hull, 14) Banks, 15) Pepsi Cola, 16) Satsuma, 17) Belleek, 18) Trunks, 19) Scales, and 20) Noritake.
The Kovels' Top 20 list reflects some big, general categories that collectors search for—furniture, dinnerware, jewelry, lamps, trunks—but not all items within those categories are trendy or hot. Popularity and prices have shifted for collectibles. Here are some of the shifts from the past five years that have changed prices.
Furniture (No. 5): "Brown" furniture prices are down while "fifties" and blonde furniture prices are up. The wooden furniture of the 1700s–early 1900s are bought for use at low prices. Only rare or important museum-quality furniture gets top dollar.
Jewelry (No. 9): Bakelite jewelry prices are down while prices of artist-designed jewelry and jewelry with large colored stones have gone up. Artist-designed pieces often aren't even made by the artists themselves but their names and fame create demand.
Lamps (No. 12): Victorian hanging lighting fixtures are hard to sell because there are fewer older houses that need them. Midcentury and modern lamps with innovative design are very high priced, often giving little light but made in unusual shapes and used more like a piece of sculpture. Ceiling lights are making table lamps unnecessary.
Trunks (No. 18): Collectors love old, timeless trunks and value them as coffee tables, storage chests or seats, but the aura of exclusivity that is connected with Louis Vuitton trunks and its iconic monogram logo has sent those prices way up. On a smaller scale, Victorian beaded bags are way down while expensive designer purses are even more expensive. A Hermès Diamond Birkin bag just sold for $78,125.
Collectors are opting for fewer but better things with clean, distinctive design. They're no longer searching for large collections of small pieces like cups and saucers or limited edition collector plates, but are looking for a few large, superior examples like a Picasso-designed plate or a large glass sculpture. Also, condition is probably number one while it used to be rarity.
The lamp shown was designed by Ettore Sottsass for the Memphis Group, an Italian design and architecture group founded by Sottsass in Milan 1981. The 25- by 15-inch lamp is made of enameled metal and printed laminate. It's called the "Tahiti Table Lamp" and it sold for $2,250 at a fall Rago auction.
Collectors who go to Kovels.com can learn the identifying features, marks and prices of antiques and collectibles. Kovels.com and the book, "Kovels' Antiques and Collectibles Price Guide," list thousands of collectibles, including banks, in hundreds of categories that are described, edited, priced and pictured.
Terry Kovel is America's foremost authority on antiques and collectibles. She is the well-known columnist and author of more than 100 books on antiques and collecting. With her daughter, Kim Kovel, she co-authors the best-selling annual "Kovels Antiques and Collectibles Price Guide." Both Terry and Kim are collectors. They will discuss antiques and collectibles topics with accredited media. Photographs are available. Contact pr(at)kovels.com.
About Kovels.com
Kovels.com, created by Terry Kovel and Kim Kovel, provides collectors and researchers with up-to-date and accurate information on antiques and collectibles. Kovels' Antiques was founded in 1953 by Terry Kovel and her late husband, Ralph. Since then, Kovels' Antiques has published some of America's most popular books and articles about antiques, including the best-selling "Kovels' Antiques and Collectibles Price Guide," now in its 47th edition. The Kovels' website, online since 1998, offers 900,000 free prices, and includes a free weekly email, "Kovels Komments." Kovels.com gives readers a bird's-eye view of the market through the latest news, auction reports, a Marks Dictionary, readers' questions with Kovels' answers and much more.
Contact Information:
Liz Lillis
216.752.2252
Pr(at)kovels(dot)com