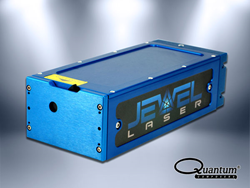 Bozeman, Montana, (PRWEB) December 15, 2014
Quantum Composers, a manufacturer of digital delay and laser technology, has announced today that it will be releasing a series of diode pumped solid state lasers. The Jewel Lasers will be officially released December 15th and will be displayed at the upcoming Photonics West tradeshow in San Francisco.
The Jewel Laser was developed in response to customer demand for a smaller, lighter, and more affordable diode pumped Nd:YAG laser. The current lasers in the market are heavy and have large power supplies that can lead to space and cooling problems. The Jewel is just 6 inches long and weighs only 2lbs, becoming one of the smallest, lightest, diode pumped lasers in its class. The Jewel will reduce the space and weight limits on laser systems and with its swappable resonator, downtime and production costs are reduced dramatically.
The Jewel Laser's integrated thermal management system was designed for applications that require high reliability. This laser was designed specifically for 24/7 clean room fabs and portable environmentally challenged applications and incorporates a sealed housing that has conductively cooled thermal management, eliminating external fans and water cooling. The power supply is no bigger than a standard laptop charger – providing a smaller footprint for the laser and its power supply. These features allow the laser to be easily integrated onto a gantry in a clean room or on into battery operated portable systems.
Created with extensive Built-In-Test, the USB or optional Bluetooth wireless interface may be used for programming and running diagnostics without ever touching the system, making it perfect for clean room applications. This unique option allows the user digital diagnostics and the ability to fire the laser remotely. With self-diagnosing software, the user can easily determine exactly where components have failed. With swappable resonators and diodes that can be replaced quickly and efficiently with minimal adjustment/alignment, users will be able to save time and money.
This laser will also be used for LIDAR, PIV, LIF, OPO, TFT-LCD repair, ablation and mass spectroscopy applications.
About Quantum Composers:
Quantum Composers was founded in 1993 in Bozeman, Montana, an already accelerating high tech center for electro-optic startups. Over the last 20 years, Quantum has become an internationally recognized pioneer in the electro-optics market place with the design and development of a precision pulse generator line and as a provider of custom laser systems for micromachining applications.
To learn more about the Jewel Lasers please visit us on the web at http://www.quantumcomposers.com Please direct any questions to Erin L. Prieskorn, Marketing Manager, at 406-582-0227 Ext122.