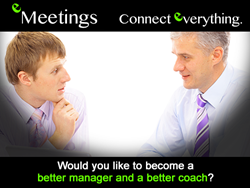 Fairfield, NJ (PRWEB) December 11, 2014
Vision-e today announced the availability of its eMeetings app on the Salesforce AppExchange. eMeetings empowers businesses to be more efficient in one of their most important business practices, those weekly or monthly meetings that set overarching business and sales goals.
By facilitating those all-important 1:1 meetings and coaching sessions, eMeetings aids employee relationships and enables fluid business communication. eMeetings' PDF packages are visually pleasing and automated; creating more consistent meetings where each attendee can be better briefed on all Salesforce data that is discussed.
eMeetings easily builds automated, packaged Salesforce reports & dashboards for meetings, reviews, team meetings, performance reviews and more using the data within a company's Salesforce org.
Using the auto-scheduler feature, eMeetings schedule and sends reports and dashboards directly to attendees' inboxes, making the process of scheduling meetings all the more efficient. Automating this process guarantees that those critical one-on-one meetings are held on a regular basis.
Comments on the News
In a recent article that appeared on Forbes.com, contributor Jim Keenan attributes poor reporting as a technical problem that "companies face in trying to execute their strategy." eMeetings helps solve this problem for those companies using Salesforce reports and dashboards.
Product Key Features
A completely unique product, eMeetings creates consistent, timely, automated reports, perfect for one-on-one meetings and coaching sessions.
About the AppExchange:
The Salesforce AppExchange is the world's leading business apps marketplace. With more than 1,900 partner apps and 1.8 million customer installs it is the most comprehensive source of social and mobile cloud apps for business. The Salesforce Platform is the world's most trusted and comprehensive cloud platform for building social and mobile cloud apps, powering Salesforce CRM, and more than 3 million custom apps built by customers and partners. Apps built on the Salesforce Platform can be easily distributed and marketed through salesforce.com's AppExchange.
Salesforce, AppExchange and others are among the trademarks of salesforce.com, inc.
About Vision-e
Vision-e is a premier provider of salesforce.com solutions. Vision-e helps businesses of all sizes and budgets streamline their Salesforce organization and become more productive, efficient and profitable. Vision-e goes beyond consulting—it was founded by sales professionals who believe customers come first, no matter what.
"Vision-e provides elegant, highly customizable solutions that help companies of all sizes get the most out of the Salesforce platform. Vision-e: it's Salesforce…extraordinary." – Jule Limoli, CEO, Vision-e.
From one-of-a-kind business productivity applications to customized services from certified Salesforce Administrators, Vision-e drives the ROI clients want and expect from their Salesforce investment. Vision-e is… Customer Everything.
For more, go to http://www.Visione.com or call 1.888.611.2679. Vision-e is headquartered in Fairfield, NJ.
###