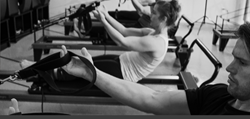 "In 10 sessions, you feel better, 20 sessions you look better, 30 sessions you have a completely new body" Joseph Pilates
Falls Church VA (PRWEB) December 12, 2014
My Thrive Pilates is pleased to announce the opening of their third location in Falls Church, Virginia, complimenting its existing locations which are located at 2800 S Randolph Street Arlington, Va and 1401 N Adams Street Arlington, Va. The newest studio is located at 444 W Broad Street Falls Church, Va 22046. My Thrive Pilates offers a complete range of Pilates instruction: Private & Duet Apparatus sessions, Group Reformer, Mat Pilates and Chair Pilates. My Thrive offers a variety of class levels to meet the fitness level of all clients and guarantees a full body workout to strengthen and lengthen the body, and improve endurance, flexibility, and balance.
"We are so excited to be expanding to a third location in Falls Church and look forward to offering our clients new and exciting classes," Stephanie Westberg, Owner.
Along with Reformer and Mat classes, My Thrive Pilates Falls Church will offer Group Chair Classes. Our classes are based upon the Peak Pilates MVE™ Program. This group class utilizes a modern version of the Pilates Chair, originally designed by Joe Pilates. It is truly amazing how many variations of the basic Pilates exercises are possible using this versatile piece of equipment. The classes are fast paced and a full body workout.
With classes held every day of the week at all three studios, My Thrive Pilates is convenient for anyone interested in Pilates and looking to improve their overall health and fitness. Easy online scheduling can be found for all locations on the studio's website at http://www.mythrivepilates.com. For more information, please contact My Thrive Pilates at info(at)mythrivepilates(dot)com.
My Thrive Pilates, 444 W Broad Street Falls Church, VA 22046