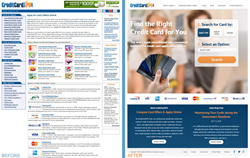 Our updated site design is just one more example of how committed CreditCardXpo is to staying current with the latest credit card information and online credit card application methods
(PRWEB) December 12, 2014
CreditCardXpo, a website that offers a way to compare and apply for many different credit cards in one convenient site, has been redesigned. The CreditCardXpo.com site has just as many features and information, but is more user-friendly with its more streamlined design.
"CreditCardXpo has been around for 10 years, and our site has just undergone a complete re-design," says Alex Liang, the President of CreditCardXpo. "We have all the great information as before -- such as info about credit card offers for different financial situations and needs, credit reports, debt relief and more -- but it's now much easier to find in a more attractive website."
The redesigned home page of CreditCardXpo makes it fast and easy for visitors to search for credit card applications by credit level (excellent, good, fair or bad), card type and card issuer, as well as by criteria such as Personal, Business or Student credit cards.
With CreditCardXpo's Credit Card Finder, you can search for credit cards by narrowing down your criteria and then compare your favorites. Each credit card's at-a-glance information includes its intro and ongoing APR, annual fee, the number of stars and reviews the card has received from other CreditCardXpo users, and more.
CreditCardXpo also continues to offer timely advice on credit card usage, building better credit, getting the best deals and biggest benefits with your credit cards and more via the CreditCardXpo blog.
"Our updated site design is just one more example of how committed CreditCardXpo is to staying current with the latest credit card information and online credit card application methods," says Liang. "We also use the highest level of SSL certificate encryption for all our credit card applications, so you can apply securely for the best credit card offers."
About CreditCardXpo.com
CreditCardXpo has provided credit card reviews, applications and comparison services for over a decade. We're committed to giving our visitors a one-stop shop where they can find the credit card offers that provide the best fit for their needs, card usage, credit level and financial situation. To learn more and search the many credit card offers available, visit our website at http://www.CreditCardXpo.com.