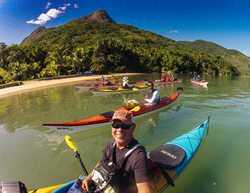 SALEM, Ore. (PRWEB) December 11, 2014
Tofino Expeditions has paddled all over the world and doesn't use the word "perfect" to describe destinations often; however, 150 miles west of Rio de Janeiro on Brazil's southern coast, Costa Verde provides nearly perfect waters for fantastic sea kayaking adventures. Tofino's Brazil Sea Kayaking: The Costa Verde (http://tofino.com/trips/brazil-sea-kayaking-adventure/) earned its place as a National Geographic Traveler's 2012 "50 Tours of a Lifetime" and now adventurers have the opportunity to take a 2015 Spring Break trip like no other and experience this amazing place for themselves.
Tofino Expeditions, a veteran adventure travel company offering worldwide kayaking tours, takes kayakers of all ability levels on a journey through Brazil that includes unparalleled kayaking, cultural discovery and exploring the natural world. Start this amazing journey by wandering through Rio de Janeiro – recently named UNESCO World Heritage Site – with a lifelong Caricoa (resident of Rio) discovering the city's most iconic sites and hidden treasures. Guests will come to understand why Rio offered the perfect location for the 2014 FIFA World Cup as well as the upcoming 2016 Olympic Games. The New York Times named Rio the #1 destination on its "46 Places to Go in 2013" (http://www.nytimes.com/interactive/2013/01/10/travel/2013-places-to-go.html?hp&_r=1&). Don't forget to try a chilled Caipirinha (Brazil's national drink) and a classic Churrascaria (Brazilian barbeque).
Head to the preserved Portuguese Colonial and Brazilian Imperial town of Paraty, a UNESCO World Heritage Site surrounded by tropical forests, stunning mountains and ethereal waterfalls. Check into a historic, boutique hotel at the end of the Gold Road in old town then take a walking tour around the restored 18th and19 th century architecture. This colorful town is the launch point for a paddling trip to Saco de Mamangua, Brazil's tropical fjord. Paddle through warm, aquamarine water protected from the open Atlantic by Ilha Grande, a big island rich in wildlife and dotted with tiny fishing villages as well as beautiful beaches. Trip highlights include: swimming at a tropical pool under a waterfall, visiting a local canoe builder, eating fresh seafood prepared by locals and having dinner with Paraty's celebrity Chef Yara Castro Roberts at her restored colonial home. Tofino will also provide stand up paddleboards so guests can checkout the fastest growing water sport in the world in ideal warm water conditions. After fun days of exploration, guests will relax in comfortable eco-lodges and guesthouses, including in the quaint fishing village of Pouso da Cajaiba, cited as a "favorite spot" by Outside Magazine.
Tofino blends comfort with a truly authentic sea kayak travel experience, making this a true "Trip of a Lifetime". Price is $4,390 per person ($500 single supplement). The 2015 departure dates are March 12, May 7, and October 15. Minimum age 12 years. For more information about the Brazil Sea Kayaking: The Costa Verde tour, visit http://www.tofino.com .
###
About Tofino Expeditions:
Founded by veteran adventurer Grant Thompson, Tofino Expeditions has guided commercial sea kayaking tours since 1988, making them one of the most experienced companies in the business. The company was among the very first to provide guided paddling tours of Vancouver Island's west coast, which is now a destination on the life list of paddlers around the world. The company guides trips along the world's finest coasts in Baja, British Columbia, Croatia, Brazil, Vietnam, Italy, and the Galapagos Islands. Tofino Expeditions was named one of National Geographic Traveler's 50 Tours of a Lifetime in 2014.