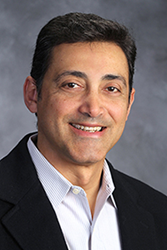 Elyria, OH (PRWEB) December 10, 2014
Periodontist Dr. Eric Guirguis gives new hope for patients looking for gum disease treatment in Elyria and Westlake, OH, through the LANAP® protocol. The LANAP® protocol is an advanced laser gum surgery that improves oral health without the pain and down time experienced with traditional methods. The minimally invasive procedure helps to save teeth that might otherwise have to be extracted, and is a safe and effective way to treat periodontal infections so that the gums can heal.
The LANAP® protocol is an FDA cleared laser gum surgery for treating gum disease, or periodontal disease. When patients suffer from the moderate to advanced stages of gum disease, they experience bleeding gums, gum recession, and bone loss, and are threatened with tooth loss. Dr. Guirguis performs the treatment by inserting a small probe into the pockets of infection that form between the gums and the roots of the teeth. The probe delivers a laser beam directly to the diseased tissue without requiring any cutting. The PerioLase® MVP-7™ is a specialty laser that differentiates between healthy tissue and diseased tissue. When Dr. Guirguis performs this gum disease treatment he is able to address the problem without hurting or killing healthy cells in the area. This leads to faster healing and less inflammation.
While the LANAP® protocol is advanced care, it is well established as a safe and proven dental procedure. Without treatment, gum disease will continue to progress. Eventually, the bone around the teeth can deteriorate so far that patients may need to have teeth extracted. Intervention using laser gum surgery initiates healing because Dr. Guirguis removes problematic bacteria and infected tissue while stimulating healthy cells to grow. Over time, the pockets decrease in depth and the gums reattach to the affected teeth. As with most areas of healthcare, it is best to catch the problem as early as possible. However, patients with advanced disease can still benefit from the LANAP® protocol.
Those who need more information about gum disease treatment in Elyria or Westlake, OH may visit Dr. Guirguis' website or call his office. Dr. Guirguis enjoys giving patients the dental education they need to make wise decisions about their care. He is always happy to set up personalized consultations to review treatment options and discuss individual needs.
About the Doctor
Dr. Eric Guirguis is a periodontist offering personalized dental care for patients in Elyria and Westlake, OH. Dr. Guirguis graduated from his residency with a Masters degree in Periodontics in 1992. He also earned his Doctor of Dental Surgery degree from the Case Western Reserve University in Cleveland, OH, along with his Specialist Periodontal training and his Master's degree in Dental Sciences. He has been practicing in the Cleveland area for more than 18 years and is committed to continuing education to provide his patients with the most exemplary level of care. The Elyria office is located in Lorain county, and Westlake is located in Western Cuyahoga county. Both offices are serving the Western suburbs in Cleveland and other counties west and south of Lorain. To learn more about Dr. Guirguis please visit his website at http://www.guirguisperio.com or call (440) 365-0455 for the Elyria office or (440) 835-8883 for the Westlake office.