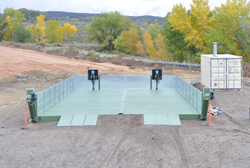 Hydro Engineering Inc. has also developed a means to accommodate for the non- aqueous materials that are washed off of your equipment. The Hydropad system can be configured to contain and remove the dirt and debris that accumulates with each wash.
Salt Lake City, Utah (PRWEB) January 07, 2015
Hydro Engineering, Inc. has been developing the design for capturing wastewater produced from washing vehicles and equipment for years. This is done without compromising a job site with contaminants that are brought in from a job and potentially let out into the environment. Hydro Engineering's solution is the Hydropad wash rack system, just one component of any company's green sustainability.
Hydro Engineering Inc.'s Hydropad systems are platforms onto which vehicles, equipment, hardware, or components are placed in order to be washed. They are engineered to capture water and channel effluent to the gutter systems of the Hydropad. Captured effluent can then be diverted to Hydrokleen water filtration systems and sent back out to the Hydroblaster washing system for 100% water efficiency.
Hydropad portable wash racks are also designed for maneuverability as well as safe set-up and tear-down. Weight load capacities can reach anywhere from two tons of light equipment (passenger vehicles, personal vehicles, etc.) up to 70 tons (per Hydropad), of heavy duty mining equipment. Hydropad's dimensions are a compact 8'X20' section. Multiple Hydropads can be linked together to accommodate any range of heavy equipment and landscaping maintenance needs.
Because every wash job is unique, the types of washing that are done on Hydropads can vary in scope and magnitude. This is why Hydropads can include optional side wall panels which assist in capturing the overspray of a typical wash. These panels, which range in size from up to 6' high outdoors to 12' high indoors, can be configured to be included on one side of the Hydropad or on all sides. This is made possible with a sliding door apparatus that maximizes water capturing potential. This option is perfect for large and tall heavy duty equipment to be thoroughly cleaned in order to cut back on maintenance costs.
Of course, when washing vehicles and equipment; there is more than just water coming off of them. Contaminants such as soaps, oil, dirt, and debris are very commonplace and must be contained somewhere. There are three methods with which one can collect and dispose of contaminants captured by Hydropad units.
Each Hydropad includes a gutter. In applications where solids are at a minimum, the side gutter can be cleaned manually, with a shovel. Hydropads can also be equipped with a remote drive-in clean-out tray. Drive-in trays collect more debris without the need for constant removal. When dirt removal is required, it is done with a backhoe or skid steer loader. Finally, Hydro Engineering Inc. has developed a patented drag conveyor system that automates solids removal and deposits waste into any type of receptacle that is desired.
Hydro Engineering will be attending the World of Concrete Show in Las Vegas, Nevada and the GCSAA Expo in San Antonio, Texas during the month of February. Stop by the booths for more information on how Hydro can make a business more eco-friendly and green.