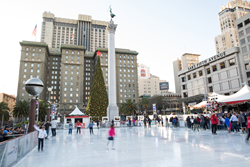 San Francisco, CA (PRWEB) December 11, 2014
December is a beautiful time to visit San Francisco (just don't expect to see snow on the ground). No matter how cold California natives might find the weather, it's guaranteed to be warmer than December 25 in at least 38 other states — and considerably less crowded than, say, the slushy sidewalks of Manhattan. While Christmas itself can be a challenging day to plan activities, several notable spots keep their doors open and the merriment level set to high.
After delivering presents to a billion children worldwide, Santa unwinds by driving a Zamboni. All three Downtown San Francisco ice skating rinks (Union Square, Embarcadero Center and Yerba Buena Gardens) are open for you to show off your triple axels on Christmas Day, the latter two until late in the evening. The Union Square rink is particularly jolly, as the commercial bustle will have ceased but the adjacent holiday tree remains lit. http://unionsquareicerink.com. http://embarcaderocenter.com/. http://www.skatebowl.com.
The Reindeer Romp at the San Francisco Zoo runs from Nov. 17 through Jan. 1, and since antlered ungulates don't know what day it is, it's open on Christmas, too. On loan from the North Pole, the four reindeer will mesmerize kids who believe in Santa (as well as those who don't but think reindeer are made up, too.) Considering the zoo is across the street from the Pacific Ocean, it's hard not to love a bonus trip to the beach in late December, especially with a cup of hot chocolate from the Lemur Café. http://www.sfzoo.org
The Botanical Gardens are Golden Gate Park's most manicured jewel. Although San Francisco residents never pay an entrance fee, the gates are flung open to everyone on Christmas Day, free of charge. Roam through 55 acres of native plants, succulents, magnolias, a grove of redwoods, the Ancient Plant Garden, and the rest of the 8,000 species on display, some of which might even be in bloom (especially the Mesoamerican Cloud Forest). If you're lucky, the weather will be temperate enough for a picnic. http://www.sfbotanicalgarden.org
Although closed New Year's Day — and Yom Kippur, of course — the Contemporary Jewish Museum is open on Christmas. Better yet, it's a Community Free Day, so all the galleries are open (which means advance registration is highly recommended). Art-making, musical performances and a nosh from Wise Sons Delicatessen round out a wonderful holiday afternoon inside Daniel Libeskind's postmodern cube. And because the CJM is exhibition-based, lacking a permanent collection, every year is different. http://www.thecjm.org
Bringing together the Jewish comedic heritage with the venerable tradition of eating Chinese food on Christmas, the 22nd Annual Kung Pao Kosher Comedy fills that gaping hole around dinnertime when all the Gentiles are eating a roast. Comic Lisa Geduldig began performing the show in 1993 and moved to the 370-seat New Asia Restaurant in Chinatown in 1997. The show's audience was originally 99% Jewish but expanded to include a wide audience: Chinese-Jewish couples, interfaith duos, singles, families, gay, straight, those far from home or traveling abroad, and anyone seeking an alternative to Christmas. Since its inception, Kung Pao has catered to more than 40,000 attendees The tradition has expanded into two shows (a dinner show at 5 p.m. and a cocktail show at 8:30 p.m.) on Dec. 24, 25 and 26. This year Kung Pao inadvertently celebrates our neighbor to the north, Canada, with two Canadian-born comedians on the bill: Jeremy Hotz (Best Male Stand Up: Canada, Best International Performer: Sydney Comedy Festival) and Ophira Eisenberg (Host of NPR's trivia comedy show, Ask Me Another), and for the first time the show features an underage comedian: 14-year-old Simon Cadel from New York, the youngest to ever grace the Kung Pao stage. http://www.koshercomedy.com
The incomparably beautiful Palace Hotel turns into a holiday wonderland each year, with a giant gingerbread house and tea with Santa every Saturday in December. Anyone looking for something traditional can choose from among six brunch seatings on Christmas Day, in either the Grand Ballroom or the fabulous 19th century Garden Court. An upscale buffet as opposed to a standard meal — think crepes and a carving station — its Yuletide grandeur befits both the occasion and the surroundings. http://www.sfpalace.com
The San Francisco Travel Association is the official tourism marketing organization for the City and County of San Francisco. For information on reservations, activities and more, visit http://www.sanfrancisco.travel or call 415-391-2000. The Visitor Information Center is located at 900 Market St. in Hallidie Plaza, lower level, near the Powell Street cable car turnaround.
American Express® is the official Card partner of the San Francisco Travel Association.
San Francisco International Airport (SFO) offers non-stop flights to more than 34 international cities on 29 international carriers. The Bay Area's largest airport connects non-stop with 78 cities in the U.S. on 15 domestic airlines. SFO is proud to offer upgraded free Wi-Fi with no advertising. For up-to-the-minute departure and arrival information, airport maps and details on shopping, dining, cultural exhibitions, ground transportation and more, visit http://www.flysfo.com. Follow us on http://www.twitter.com/flysfo and http://www.facebook.com/flysfo.
# # #
Note to editors: For news and story ideas, follow @SFMediaRelation on Twitter. Photos and press releases are available at http://www.sanfrancisco.travel/media/.