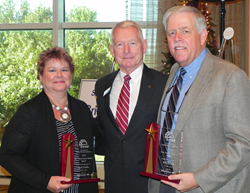 (PRWEB) December 11, 2014
Two Florida school system leaders were recognized for their exemplary leadership by the Consortium of Florida Education Foundations (CFEF) December 4th at the 69th Annual Joint Conference of Florida School Boards Association and Florida Association of District School Superintendents in Tampa. They were chosen from among seven nominees for championing community and business involvement in education through their local education foundations.
"We think it's important to celebrate the school district leaders who make it a priority to foster private-sector support of public education through their local education foundations," said Donna Lueders, CFEF Membership Chair. "This year's recipients are outstanding examples of the many individuals who advocate for our local education foundations and help us raise more than $45 Million annually to support our students, teachers and schools."
This year's STAR awards were sponsored by Bank of America, a strong and longtime supporter of local education foundations as well as a supporter of statewide efforts to strengthen education foundations through the CFEF.
CFEF 2014 STAR Award Recipients:
Bill Husfelt – Superintendent, Bay County
April Griffin– School Board Member, Alachua County
Established in 1987, the CFEF is the membership organization for Florida's county wide school district local education foundations with a mission to advance student achievement in Florida by increasing private sector investment and involvement in public education. The CFEF now represents 59 member foundations with 1,100 business and community leaders serving as volunteer board members and has offered the annual STAR awards since 2007.
To learn more about the CFEF or connect directly to a member local education foundation, visit http://www.cfef.net or contact Mary Chance, president, at (352) 338-0250 or marychance@cfef.net.