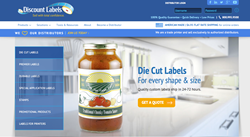 "We consistently reach out to customers about their opportunities, and how we can help them grow," says Jennifer LaGrange, Marketing Manager. "We're excited to launch our new site in response to their preference for more mobile access and educational too
New Albany, IN (PRWEB) December 15, 2014
Discount Labels is excited to announce it has refreshed its web site to be more mobile friendly, and now offers more tools and resources than ever before to help distributors build their label business.
"We consistently reach out to customers about their opportunities, and how we can help them grow," says Jennifer LaGrange, Marketing Manager. "We're excited to launch our new site in response to their preference for more mobile access and educational tools."
Visitors to the site will immediately notice a more contemporary home page with streamlined log in and navigation. Other enhancements include:

A new Solutions section with products organized by vertical markets
A new Tools & Resources section with a video library and gateway to Labels University, the company's formal educational initiative
An easy-to-use two-minute sign up for new distributors
A new blog by Mike Gore, VP Operations
More unbranded sales brochures and flyers for registered distributors to use with their own customers
"We've been developing content to help distributors understand more about all the different kinds of labels so they can go after opportunities more confidently. The video library, for example, has over a dozen two-minute videos that teach about products and will spark selling ideas," says LaGrange. Among the features that haven't changed, notes LaGrange, are the already easy-to-use quote and order features, the ability to check on the status of an order, and the ability to automatically place a re-order.
Current customers are encouraged to visit the new site at DiscountLabels.com, and to log in to see all the new features. Print and promotional resellers who are interested in becoming a Discount Labels distributor are encouraged to go to the site, and follow the "1-2-3" sign-up instructions.
The company is inviting feedback from customers and other print and promotional suppliers at marketing(at)discountlabels(dot)com.
About Discount Labels:
Discount Labels specializes in die cut labels, premier labels, durable labels, UL labels, variable data labels, printer labels, magnets, stamps and promotional products for every industry including automotive, construction, healthcare, manufacturing, restaurant and retail. Discount Labels sells through the largest authorized label distributor network in the U.S. and Canada. Eligible dealers are active in one of the following industries: printing, graphic arts, specialty advertising, business forms, packaging and shipping, signs, banners, trophies, rubber stamps, or office products. Established in 1965, Discount Labels has grown to be America's largest wholesale label supplier. Find more information at http://www.discountlabels.com and visit us on Facebook, Twitter and Google+.