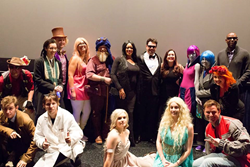 It's amazing how they manage to tackle different aspects of Cosplay and do it right. It hits on many levels.
Los Angeles, CA (PRWEB) December 11, 2014
Cosplay Dreams 3D, the first film about the world-wide phenomenon of costume play shot in stereoscopic-3D, had its world premiere as the headlining film for the Los Angeles 3D Film Festival Dec. 6, 2014 at the L.A Live Regal Cinemas.  The feature film was presented in Real-D™ 3D to an audience of over 275 Cosplayers, geek-culture press, and 3D film fans. The screening was followed by an all-ages Cosplay Costume After Party at the Hotel Figueroa that hosted over 300 costumed attendees. Cosplay Dreams 3D received its first accolades, "Best Documentary" of the Los Angeles 3D Film Festival. The film has a second screening in 3D at 4PM Sat., Dec. 13th at the 11th Annual LA-3D Movie Festival.
Cosplay celebrities in attendance included YouTube celebrity singer / songwriter / cosplayer Traci Hines who stars in the film, award-winning professional cosplayer Dustbunny, and photographer and author of "Cosplay in America" Ejen Chuang.  Cosplayers in the film, such as Fanboy Brandon and Ginger n' Cinnamon, dressed as Marty McFly and Morticia Addams attracted an entourage of fans dressed in costume.
Over the last year, the husband and wife filmmaking team Christine and Gulliver Parascandolo have previewed scenes of the film to packed audiences at the San Diego Comic-Con and Stan Lee's Comikaze Expo while gathering over 48,000 Facebook fans along the way.  "Seeing and hearing the audience react so well to the film was a dream come true.  It was an honor to have this amazing community rally around this project," mentions director Gulliver Parascandolo.
The geek and cosplay community have begun publishing their reviews and comments across the internet:
"It's amazing how they manage to tackle different aspects of Cosplay and do it right. It hits on many levels. One, if you're part of the community, this movie comes across as almost a spiritual experience. On another level, if you've never really heard or or understood cosplay, they did an excellent job at telling different perspectives on why people started to, and continue to cosplay," mentions cosplayer and SocialFerocity.com writer Dre is his review of the film, "The 3D and special effects they added to this movie took it over the top."
"I never smiled so much during a documentary. You've brought a much needed, missing voice to the overall discussion about the state of the cosplay community," exclaims Cosplay convention organizer Richie Edquid. "If this was a ploy to get me to admit I teared up a little, it worked."
"Ah, CosplayDreams 3D - a 3D documentary on cosplay. Better than I expected.  The 3D actually worked pretty well! There were moments when they point things at the camera but it worked well," says Ejen Chuang, author of the book "Cosplay In America".
"[The film] had a fantastic style and did an excellent job of explaining the cosplay community,"  exclaims college student Nathan Blais. "The 3D also made the characters pop out nicely. I would recommend everyone to see this film."
"What an inspiring movie not just for Cosplayers, but for all!" exclaims Tish Trotter of GeekSplash, while dressed in cosplay as TV character Peggy Bundy from "Married with Children".
Cosplay Dreams 3D will screen at 4:00 PM on Sat., Dec. 13th at the LA 3-D Movie Festival taking place at the LA Downtown Independent Theater - 251 S Main St. Los Angeles, CA.  See media contact for limited press tickets.  More festival info. at http://www.la3dfest.com/. Cosplay Dreams 3D is currently seeking worldwide distribution.
# # #
ABOUT COSPLAY DREAMS 3D:
Executive Film Producers Patrick Scott (Drama House Productions) and Christine Kasal Parascandolo (Passage Productions), with her husband and film Director Gulliver Parascandolo (Passage Productions), have come together to explore Cosplay through a three-dimensional (3D) documentary film entitled Cosplay Dreams 3D. Filmed in stereoscopic 3D for over one-and-a-half years at over 20 conventions and gatherings, Cosplay Dreams 3D provides a behind-the-scenes look at the people who participate in Cosplay, their motivation and the preparations they make for major events such as Comic-Con, and mixes in stunning visual effects to help bring their Cosplay fantasies and characters to life for the viewing audience.  The film features fascinating, hilarious, and heart-warming true stories behind many full-time Cosplay hobbyists who attend conventions, like Comic-Con, and return to their everyday lives Monday morning, or continue living the fascinating life as professional cosplayer for hire.  Featuring world-famous Cosplayers like Yaya Han, Traci Hines, Fanboy Brandon, and hundreds of passionate artists.  Cosplay Dreams 3D is currently seeking worldwide distribution. More info. at http://www.facebook.com/cosplaydreams3d and trailers here: http://bit.ly/1Fo04vj
MEDIA CONTACT:
Cosplay Dreams 3D:
Christine Kasal Parascandolo
T: +1(619) 606-2423
pr [at] cosplaydreams3d.com